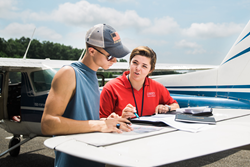 Lynchburg, VA (PRWEB) June 22, 2017
Liberty University's School of Aeronautics (SOA) launched the New Horizons High School Aviation Program last summer in response to the looming pilot shortage (over 500,000 pilots will be needed over the next 20 years, according to a report by Boeing). A year ago, the program held its first solo academy, where high school students learn to fly a plane by themselves, and this summer, six graduates of that program are taking a new private pilot certification course.
New Horizons helps high schoolers interested in the industry to get an early start — and save money. It can cost approximately $10,000-$15,000 to earn a private pilot license, but students can attend Liberty's solo academy for less than $1,000 and take the private pilot course for less than $5,000. There are significant financial savings for students who complete their solo requirements in less than 10 hours, which, thus far, applies to all graduates of the program.
"The New Horizons program helps to spark an interest in aviation in kids," said Chris Cartwright, program director. "And then, the program provides a way to meet that interest and help them get a head start through flight training in high school."
Participants who get their private pilot license can also get a jumpstart on an aviation degree, with the possibility of earning up to 12 college credits.
"We are getting tons of training a lot earlier than most people," said Joel Cashman, a 19-year-old preparing to start at Liberty SOA in the fall. "It's a pretty big head start on college, and it is a fraction of the cost."
New Horizons also offers summer camps — including an overnight camp — where interested students can experience educational activities related to aeronautics, including flying in an airplane, using Liberty's simulators, working on maintenance projects, and building and launching rockets and gliders.
Liberty has offered aviation summer camps for several years. Dalton Joyce, 18, has taken part in all of them, going back to his middle school years when he participated in an aviation ground school day camp (which is a partnership between Liberty's SOA and Central Virginia Community College).
"The (instructors) here care about you … they are willing to teach you, to mentor you, even outside of aviation."
While the camps take place at Lynchburg Regional Airport, where Liberty's SOA is headquartered, the solo academy and private pilot course take place at New London Airport (in Bedford County about 10 miles from campus), which Liberty acquired in December 2015 to enhance its aeronautics program.
The serene, rustic airport, surrounded on all sides by woods, makes for a perfect location for training, with a view of the Blue Ridge Mountains on the horizon once airborne. There is less air traffic, allowing the students to get more time up and down the runway. Small planes and makeshift shelters — many wearing years of experience like a badge of pride — are scattered about the property. Plus, the airport hosts a number of seasoned pilots.
"Little airports like this are probably the coolest place to hang out," Joyce said. "Here you can walk around, you can see, you can touch, you can look at all these different airplanes, talk to the pilots, get to know their story, that is just something you don't get everywhere."
About Liberty University
Liberty University, founded in 1971, is the largest private, nonprofit university in the nation, the largest university in Virginia, and the largest Christian university in the world. Located near the Blue Ridge Mountains on more than 7,000 acres in Lynchburg, Va., Liberty offers more than 550 unique programs of study from the certificate to the doctoral level. More than 250 programs are offered online. Liberty's mission is to train Champions for Christ with the values, knowledge, and skills essential for impacting tomorrow's world.