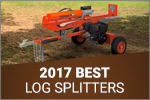 Bolingbrook, IL (PRWEB) August 14, 2017
Log Splitters Direct revealed their popular lists of the Best Log Splitters of 2017.
The site, LogSplittersDirect.com, currently lists more than 150 log splitter models and publishes nearly 2,000 log splitter reviews from actual wood splitter shoppers. Using this information, the site produces lists of the very best log splitters for consumers to consider.
Log Splitters Direct uses a proprietary algorithm to generate accurate letter grades for all log splitters on their site, providing online shoppers with a real-time analysis through comprehensive lists of the highest-rated log splitters on the market today.
"When it comes to log splitters, the type you purchase will depend on your application, including your type of wood and the size of your logs." said Dale Vogelsanger, product expert at LogSplittersDirect.com. "Choosing a log splitter is a very individualized choice. With this in mind, we've created lists that bring you the top wood splitters in each category so you can analyze the features and decide what is right for you."
According to Vogelsanger, Log Splitters Direct lists are the most reliable source for 2017 wood splitter rankings for three specific reasons:
1. Three "Best of" Lists in Each Category
People have different ideas about what it means for something to be considered "the best." LogSplittersDirect.com publishes three separate lists for each type of wood splitter. Site visitors can sort splitters according to how well a product sells (best-selling), how well customers review a product (top-rated), or models that experts recommend based on testing and consistent customer feedback. The company created separate lists for each of the four styles of log splitters, ranging from small electric units to heavy-duty, 45-ton log splitters.
2. Real-Time Updates
Most "best-seller" lists on the internet are updated only once a year at most, showcasing log splitters that have since been discontinued. Log Splitter Direct's lists, however, are updated in real time, so customers will always see a current list of what's popular in 2017.
"Customers appreciate the lists," Vogelsanger said, "They make it easier to differentiate between the different types and brands of log splitters. Basically, you are cutting through the clutter to see what works best for you."
3. Free Access
LogSplittersDirect.com doesn't require a sign-up form or a subscription. The company's goal is simply to educate shoppers with free information, helping them pick the perfect log splitter.
"Choosing a log splitter is a personal decision based on a variety of factors," Vogelsanger continued. "When buying a home, you take into account the neighborhood in addition to the house itself. The right log splitter depends on your application. We help give you plenty of information about the top products, and what each product is best used for, so you can feel confident about what you buy."