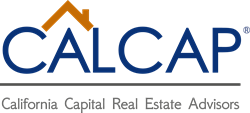 (PRWEB) August 02, 2017
CALCAP Advisors, Inc., announced today that a substantial equity investment has been completed with Gatehouse Partners, LLC into its business purpose lending affiliate, CALCAP Financial, Inc. The investment further enables the firm to expand and grow its lending business. Edward Aloe, Chief Executive Officer of CALCAP stated, "We are excited to partner with the team at Gatehouse Partners. Their deep understanding of lending and capital markets presents a great opportunity to execute our shared vision together."
In conjunction with a significant private equity investment completed, CALCAP Advisors today announced that Len Israel has been appointed CEO of the company's mortgage lending entity. Aloe further commented, "Our executive team has had a long-standing professional relationship with Len and value his extensive mortgage industry experience. His leadership, integrity, and the drive that he has repeatedly demonstrated in leading businesses on a national scale, will complement our national expansion plans. Len's expertise in both retail and third-party production, as well as his knowledge of capital markets, risk and quality management competencies are welcomed attributes to our team. We are also pleased to welcome him back home to California and our organization."
Most recently Israel was President of Mortgage Banking at Flagstar Bancorp, based in Troy, Michigan where he was responsible for all production, operations, and capital markets activities. Under Len's leadership, Flagstar originated over $32 Billion of residential mortgages in 2016.
"I'm grateful for the career experiences I have enjoyed and the relationships fostered which have led me to this phenomenal opportunity in a high-demand space--business purpose lending," stated Israel. "CALCAP is managed by people I have known, worked with, and respected for decades. We are looking forward to discussing significant business opportunities with our many partners—from long-standing and loyal third-party originators who seek to fulfill the needs of a broader market to the many experienced account executives with a following who seek a rewarding career outside of the overly-saturated mainstream segment."
About California Capital Real Estate Advisors, Inc.
California Capital Real Estate Advisors, Inc., and its Affiliate Entities (CALCAP Asset Management, CALCAP Properties, and CALCAP Financial, collectively known as "CALCAP"), is a California based investment company that strategically allocates capital across various real estate opportunities. Primary business channels include acquisition and management of income producing multifamily assets and business purpose real estate lending. CALCAP has raised over $225 million in total equity since inception. The firm currently owns approximately 2,000 apartment units in 5 states valued at over $120 million, and has completed over 450 business purpose loans for $185 million.