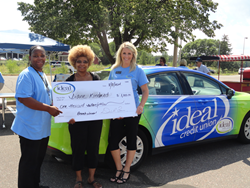 The event gives us the opportunity to express our thanks to our members for doing business with our credit union, show our give back into the communities we serve, plus have fun at the same time. - Ideal President/CEO Brian Sherrick
Woodbury MN (PRWEB) August 04, 2017
Ideal Credit Union is inviting members and the community to "Spin to Win" for great prizes at this year's Community Appreciation event, including a chance to win a $1,000 grand prize in one of our daily giveaways! Now in its fourth year, the annual summer celebration will be held August 14-19, 2017. To better accommodate busy schedules, Ideal has added evening hours at its two newest branches, and a Saturday celebration in Woodbury. Attendees will enjoy food, fun and a chance to give back to our local communities.
To play Spin to Win, attendees age 18 and older simply enter their name and valid email address into an interactive game loaded on an iPad, and the game will reveal their prize. Best of all, everyone's a winner! Daily $1,000 grand prize winners will be chosen at random, notified by email and announced on Ideal CU's Facebook and Twitter pages.
A food truck from Aesop's Table will be grilling hot dogs on the following dates and times at these Ideal CU locations:

Monday, August 14, 11:30 a.m.-1:00 p.m. – Hugo office, 14750 Victor Hugo Blvd. N.
Tuesday, August 15, 4:00-6:00 p.m. – Inver Grove Heights office, 7791 Amana Trail
Wednesday, August 16, 11:30-a.m. – 1:00 p.m. – Eagan office, 3225 Denmark Ave.
Thursday, August 17, 11:30-a.m. – 1:00 p.m. – North St. Paul office, 2401 N. McKnight Rd. (Balloon release in memory of David Riggs @10:30 a.m.)
Friday, August 18, 4:00-6:00 p.m. – Stillwater office, 2020 Washington Ave.
Saturday, August 19, 10:00 a.m. – 12:00 p.m. – Woodbury office, 8499 Tamarack Rd.
Ideal is holding a balloon release in honor of David Riggs, an employee, friend and coworker who died after being hit by a distracted driver in August of 2013, as part of its month-long "Stop the Texts, Stop the Wrecks" don't text and drive awareness campaign during the celebration in North St. Paul on August 17th from 10:30-11:30 a.m.
The campaign highlights the dangers of distracted driving and encourages the public to take a pledge to put the phone away when they get behind the wheel. The "Stop the Texts, Stop the Wrecks" campaign consists of 15 and 30 second TV ads on Twin Cities stations WCCO and KARE, an online pledge at idealcu.com/pledge, and efforts to increase awareness through its social media channels. The two ads can also be found on Ideal CU's YouTube page.
By taking the pledge, drivers agreed to not text while operating a vehicle, keep their eyes on the road at all times and encourage others to help end distracted driving.
As an active community partner, Ideal CU is encouraging attendees to bring a nonperishable food item to donate to local food shelves. The Ideal Community Foundation will again present checks to local food shelf representatives at each branch during the celebration to help feed our hungry neighbors. Coats for the Salvation Army Coats for Kids drive will also be collected.
Ideal's Community Appreciation event week, which started in 2014, has been a big hit with members and the community at large. "The annual Community Appreciation event week has become one of the highlights of the year for our credit union," said Ideal CU President/CEO Brian Sherrick. "The event gives us the opportunity to express our thanks to our members for doing business with our credit union, show our give back into the communities we serve, plus have fun at the same time."
Complete information on the Ideal CU Community Appreciation event and official rules can be found at http://www.idealcu.com.
Founded in 1926, Ideal Credit Union is a member owned financial institution that specializes in providing excellent member service, great rates and convenience to 50,000 members. Ideal CU offers a complete range of services, including a full suite of electronic banking products, savings, checking, loans, mortgage products and title services, exclusive VIP member payback, business services, investment services and more. Offices are located in Eagan, Hugo, Inver Grove Heights, North St. Paul, Stillwater and Woodbury. Visit idealcu.com for details and directions