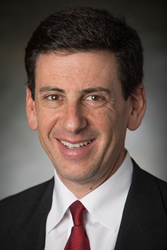 As I make a difference in the lives of my clients, it's humbling to know that my work has impacted my peers."
Devon, PA (PRWEB) August 11, 2017
Surgent, the leading continuing professional education (CPE) provider for CPAs and other accounting, financial, and tax professionals, today announced the selection of Sidney Blum, CPA for the 2017 All-State CPA Award in California. The annual awards program recognizes one Certified Public Accountant (CPA) in each of the 50 states through peer nominations.
Peers nominate a CPA who they believe best demonstrates top professional standards in the areas of knowledge, innovation and problem solving, trust and integrity, and reputation in the client and peer community.
Nominations were only accepted for licensed, currently practicing CPAs.
Blum was nominated for his global, in-depth knowledge of royalty auditing, having authored two industry-leading books on the topic. He is credited with creating the royalty audit methodology for Ernst & Young and KPMG, now an industry-wide standard.
"Sid is widely regarded as the world's leading expert in royalty auditing. He is also sought after for his knowledge in contract writing and intellectual property monitoring. He is one of the leading CPAs in America and stands out among his peers," said Dean Bower, CPA, who nominated Blum for this award.
Additionally, peers recognized Blum's position as the Vice Chair of the Board of Regents of the Association of Certified Fraud Examiners, the world's largest antifraud organization with more than 75,000 members.
"I am thrilled to have been recognized by my peers for work I truly enjoy doing. As I make a difference in the lives of my clients, it's humbling to know that my work has impacted my peers," said Blum. "A peer-recognized awards program is a brilliant idea, as it validates the importance of the networks and alliances that already exist within the accounting community."
Having seen the difference that high-quality continuing education can make for CPAs, both in advancing their careers and serving clients, Surgent created this award as a way to recognize those accounting and tax professionals who go above and beyond to keep their knowledge and skills as fresh as possible.
The All-State CPA Awards program reinforces Surgent's mission to go beyond just providing the continuing education credits that CPAs and other professionals must earn to maintain their professional credentials; instead Surgent aims to serve as the most reliable and trustworthy source of the practical and strategic information CPAs need to excel professionally, and aims to recognize CPAs demonstrating this in practice.
All nominations for the program are reviewed by a judging committee comprised of Surgent staff and advisors, and one CPA from each of the 50 states is selected each year.
Winners receive recognition as the All-State CPA for their respective state via Surgent's website, press coverage, and select advertising. Winners also receive a printed and digital certificate, as well as an unlimited CPE webinar package from Surgent at no charge.
Nominations for all states, with the exception of California, are being accepted now through August 31, 2017. CPAs who are interested in nominating a CPA for the All-State CPA Award can find more information by visiting: http://info.surgentcpe.com/cpa-awards
About Surgent:
Surgent is a fast-growing company with a 30-year history of leadership in accounting, finance, and tax education. For most of the company's long history, Surgent has been known as one of the most trusted providers of the Continuing Professional Education (CPE) that CPAs need to earn each year to maintain their professional credentials. Surgent has provided more than 5.6 million CPE credits issued to tens of thousands of accounting professionals all across the U.S. and abroad, through live seminars and online courses. More recently, Surgent has become one of the fastest-growing CPA Exam Review course providers, helping aspiring CPAs pass the rigorous 4-part CPA Exam while saving as much as 400 hours of study time compared to competitors' review courses.