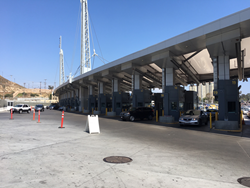 "We are pleased to continue providing our services at the San Ysidro border crossing." said Jason Mindte of Mint Controls. "We understand how important it is that the PRSS works the way it should. We are committed to making sure that is possible."
San Diego, CA (PRWEB) August 21, 2017
Mint Controls announced this week that they will continue to support and maintain the Port Runner Suppression System (PRSS) located at the U.S./Mexico border crossing in San Ysidro, CA.
The PRSS is used to control and restrict entry through the border crossing. A port officer can easily activate the system whenever a problem is suspected. The PRSS consists of three zones, specially designed to halt traffic and disable vehicle(s) attempting to run the border.
Mint Controls provides support and maintenance of the PRSS through encrypted point-to-point SMS communications, armored fiber dedicated networks and integration with the Internet of Things (IoT). Mint Controls provides 24/7 support and real-time error handling to ensure quick and responsive support of the system.
The San Ysidro border crossing is the busiest Land Port of Entry on the Western hemisphere. The border processes as many as 70,000 northbound vehicles and 25,000 northbound pedestrians every single day.
Officers from U.S. Customs and Border Protection staff San Ysidro's inspection booths. These officers are responsible for intercepting drugs, stopping unauthorized immigrants, checking for arrest warrants, stemming illicit cash and weapons flows, intercepting illegal animal trade, inspecting agricultural shipments for insects and disease, verifying medications and protecting intellectual property rights. No other law enforcement agency is charged with more complex tasks than border officers.
Efficiency at the border is extremely important. The U.S. Customs and Border Protection agency has been working to increase efficiency, accuracy and security at the border through technology, infrastructure and staffing. The PRSS is an integral part of that process.
Tigua is the contract holder for the PRSS. Mint Controls is the subcontractor responsible for the system's maintenance and support.
About Mint Controls
Mint Controls is a build to suit company offering IoT solutions to a variety of industries. The company provides full engineering services and employs a full-time staff of Electrical Engineers, Mechanical Engineers, Network Engineers, Fiber Installers, Programming Staff as well as remote and on-site staff.
For more information about Mint Controls please visit http://mintcontrols.com.