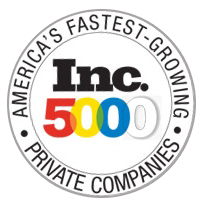 "We're proud of the growth we have achieved as company based on efforts to help field solutions teams across the world work more efficiently, from data-collection to reporting and everything in between," -Sze Wong, Zerion Software CEO
HERNDON, VA (PRWEB) August 16, 2017
Zerion Software, an award-winning technology and software company focused on mobile solutions for field service teams, announced today that it has earned a spot on the Inc. 500|5000 list for the fourth consecutive year.
The 2017 Inc. list profiles the top 500 and 5000 privately-held, employee-based firms in the United States. This year's list is especially important as it provides insight into one of the nation's top concerns: the economy. The prestigious list includes the top entrepreneurs and job-creating companies across the country.
"We're proud of the growth we have achieved as company based on efforts to help field solutions teams across the world work more efficiently, from data-collection to reporting and everything in between," explained Sze Wong, CEO of Zerion. "At our core, we believe in innovation. We celebrate the entrepreneurial spirit and are dedicated to helping our clients achieve success while leaving the world a better place. We're honored to be included on a list with other distinguished companies."
Inc. celebrates the private, employee-based firms across the country that break the mold and reach to heights that seem unobtainable. To be included on the list, a company must meet strict criteria including exceptional growth for a period of at least three years.
The complete 2017 list can be found at https://www.inc.com/profile/zerion-software, along with company profiles for each honoree.
About Zerion Software, Inc.
Zerion is a mobile workflow platform with a suite of products designed to enable mobile data collection, dataflow automation, custom reports, and secure storage for field service teams. The company is focused on accelerating companies toward a zero-paper footprint while creating platforms and solutions that increase overall efficiency. Zerion's clients represent various industries, including Agriculture, Healthcare, Engineering, NGO and the Government/Public Sector. For a full range of products and services, visit http://www.zerionsoftware.com/.
About Inc. 500/5000
In 1982, Inc. introduced the Inc. 500 list of the fastest-growing privately held companies in the United States. Since then, this prestigious list of the nation's most successful private companies has become the hallmark of entrepreneurial success and the place where future household names first make their mark. Each year, Inc. and Inc.com celebrate the remarkable achievements of today's entrepreneurial superstars-the privately held small businesses that drive our economy. For more information, visit http://www.inc.com.