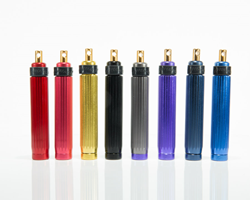 Chicago, IL (PRWEB) August 15, 2017
Available for pre-sale today on the crowdfunding website Indiegogo, PepperFace is an ultra-light tool with the same effectiveness as traditional pepper sprays. The long-awaited revamped device offers a cool, slim design without compromising function or practicality.
WHAT IS PEPPERFACE?
Sleek and effective, this device replaces large, outdated pepper sprays:

Fires up to a distance of 8 feet
Made of aerospace aluminum body—extremely lightweight
Rapid release wrap-around safety prevents the user from accidentally spraying themselves
Straight line activation
PepperFace uses a non-lethal spray that causes temporary impairment of vision and irritation when it comes in contact with a face, creating a mild burning sensation that can last for 30 to 45 minutes.
PepperFace is available in several colors and even pre-designed versions with Swarovski crystals.
ABOUT PEPPERFACE
In 2006, co-founders Brian Pennington and his wife were met with a tragedy that was too close for comfort:
"As active individuals, we routinely jogged along various trails in our neighborhood. A friend of my wife, who was also a frequent jogger, had been viciously attacked and robbed during one of her morning runs. No one saw it coming, and it could have easily been my wife or myself out that morning." – Brian Pennington, PepperFace co-owner
When they realized the inconvenience traditional pepper sprays posed to someone on the go, they set out to create something superior: the PepperFace.
HOW TO GET A PEPPERFACE
PepperFace is available on Indiegogo for a limited time with early bird special pricing. For more information, visit the PepperFace Campaign Page.
For More Information-
Email: info(at)pepperface(dot)com
christian(at)comradeweb(dot)com
Phone: (312) 285-2980
Website: http://www.pepperface.com
Videos: https://youtu.be/pH7G7g7QLLA (Promo)
https://youtu.be/olbkckBmcpY (Demo)