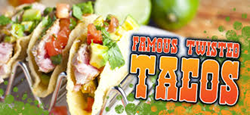 Our customers have been asking us to open a restaurant in Alpharetta for years, so this was an easy decision for us.
Alpharetta, GA (PRWEB) August 18, 2017
Twisted Taco, a popular Atlanta-based American Mexican cantina franchise, recently opened the doors of its newest location in Alpharetta, GA. Coinciding with the new location is the recent release of the restaurant's new smartphone app, available for both iPhone and Android.
The newest Twisted Taco location at 1495 Alpharetta Highway joins over a dozen other restaurants located in five states. As of August, the Alpharetta cantina will open at 11:00am each and every day to serve both lunch and dinner. Patrons can expect to find Twisted Taco favorites on the menu in Alpharetta including the brand's popular hybrid tacos, mouthwatering fajitas, and bone-in or boneless wings.
"We are so excited about this new location," says Paul Gibbs, CEO of Twisted Taco. "Our customers have been asking us to open a restaurant in Alpharetta for years, so this was an easy decision for us." The full-service Alpharetta restaurant will offer over 35 beers on tap in addition to more than 10 signature margaritas. Guests can enjoy drinks and AmeriMex fare in the main dining room or on the location's rooftop bar area.
"It's perfect timing for the new location's opening," explains Gibbs, "because our new Twisted Taco app is now available for download. And when guests download while they're in the restaurant they gain access to immediate deals and specials they can use that visit!" The Twisted Taco app can be downloaded at the Apple App Store or via Google Play. Guests can opt-in to push notifications for current specials as well as accrue "points" to redeem on food and drinks at a later date.
Since its inception in 2002, the Twisted Taco brand has been about more than great Mexican food. The franchise aims to create shareable experiences for families, coworkers, and neighbors in a comfortable atmosphere. "We've really loved developing the Twisted Taco community here in the greater Atlanta area," says Gibbs. "When people come here, we want them to feel at home."
TWISTED TACO celebrates the flavors of Mexico with a uniquely-American viewpoint. The franchise offers fast casual, full-service, and catering-style dining options as well a robust University Program for franchisees. The Twisted Taco portfolio continues to grow with more locations planned for the immediate future.
To learn more about the Twisted Taco app or to get details on the newest location in Alpharetta, visit http://www.twistedtaco.com.