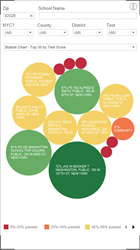 New York, NY (PRWEB) August 23, 2017
Eccella Corporation announces SchoolScores.NET - a new, interactive school ranking tool for a modern parent, helping New Yorkers choose the best elementary or middle school for their kids.
SchoolScores.NET is publicly available for free as of today, powered by the August 22nd release of the standardized student test results for 2017 by New York State. It can be accessed via http://schoolscores.net
Standardized Testing in New York
Every spring, 3rd thru 8th graders in New York's public schools take standardized tests in Mathematics and ELA (English Language Arts), as mandated by federal law. Many private schools participate in this testing as well, and test results are one of the factors the state uses to evaluate how well schools are serving students.
Standardized test results are one of the few ways to measure academic achievement in a school, and many parents look at these scores as a factor in deciding where to send their kids.
While state-wide performance is well covered in the media, parents find that comparing individual schools is not easy. The data comes from several places and must be pulled together, and private schools results are not even online and are only available by request.
Why use SchoolScores.NET?
SchoolScores.NET is built for parents, it is easy to use and works everywhere. It uses standardized test scores and lets parents compare schools where they live, by pulling all relevant data together in a single, easy to use screen.
Select a geographic area in New York City, Long Island or upstate, and SchoolScores.NET will list them side by side and rank by test results.
Traditional public, charter or private schools – you can focus on just one school type or see them all side by side, in just a few clicks.
SchoolScores.NET is easy to use, but it is also powerful. Since schools often have a different mix of students, a parent can use advanced drilldown and filtering and focus on performance of a specific student demographic. For example, which school in my area has the best performance among English learners, or economically disadvantaged students, or specific ethnic minority etc.
Since different people consume information differently, there are several listing options to choose from - a list, a bubble chart or a geographic map. 
"I wanted to build a school research tool for a modern parent, who is busy and always on the go, so it works on a smart phone, a tablet or a personal computer," said Yuri Nazarov, a Senior Consultant at Eccella Corporation and the creator of SchoolScores.NET.
Why use standardized testing results?
Test scores use hard data to show how well kids progress in school.
Other metrics, like parent surveys, measure subjective factors like parent satisfaction with the school, which do not always correlate with the school's academic results.
How much weight to give to a school's test scores is a controversial subject, and parents decide that for themselves.
About
SchoolScores.NET was created by Yuri Nazarov in association with Eccella's 'Eccella Cares' community service, using the Tableau data visualization platform and the Alteryx data preparation tool. 
Yuri Nazarov
A father of three and a data visualization expert at Eccella Corporation, Yuri is a local author, focused on helping parents understand various school options for their kids. He has been called a "guru when it comes to maneuvering New York City's byzantine school system."
Eccella Corporation
Eccella is a data management and analytics company, transforming the way companies operate and make decisions. Through innovative, purpose-built solutions, Eccella builds data-driven companies that make better, more informed decisions, faster to support their business growth goals. Eccella is headquartered in New York City with additional offices in London and Mumbai. For more information, please visit http://www.eccellaconsulting.com.