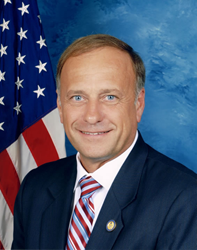 The President might wake up at 3:00 in the morning and just send out a tweet that says: I want King's bill on my desk !
Chicago, Illinois (PRWEB) August 24, 2017
Healthcare Matters announced today that its video interview of United States Congressman Steve King — sponsor of the Protecting Access to Care Act of 2017— is available on Cunningham Group's website.
The Healthcare Matters interview of Rep. Steve King focused on the medical professional liability tort reforms contained in his Protecting Access to Care Act. The congressmen's legislation would create a $250,000 cap on noneconomic damages, among other provisions that would preempt state laws governing medical malpractice lawsuits in the areas of statutes of limitation, joint and several liability, product liability and attorney contingency fees.
In the interview, Rep. King also defended his Protecting Access to Care Act against claims by some of his more conservative colleagues that it violates the concept of states' rights as well as argued why his medical liability reforms could and should pass independent of whether Congress succeeds in "repealing and replacing" the Affordable Care Act (Obamacare).
About Healthcare Matters
Healthcare Matters is an internet television program that explores the intersection of healthcare practice, the business of medicine and the law. Hosted by Michael Matray – editor of Medical Liability Monitor, the medical professional liability industry's publication of record – Healthcare Matters investigates pertinent issues facing healthcare professionals, such as succeeding in a post-Affordable Care Act healthcare delivery system, best practices for avoiding lawsuits, risk management, how to react when faced with a medical malpractice claim and new trends in medical liability litigation. Healthcare Matters is sponsored by Cunningham Group, the medical malpractice insurance specialists.