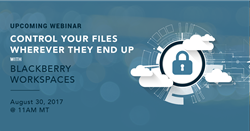 Boulder, CO (PRWEB) August 24, 2017
Zia Consulting, Inc., the leading provider of Enterprise Content Management (ECM) and Intelligent Document Capture business solutions, and BlackBerry, a mobile-native security software and services company, will co-host a webinar on file security. The 30-minute webinar, Control Your Files Wherever They End Up With BlackBerry Workspaces, will be held on August 30 at 11 AM MT.
With the rise of mobile technology and increased sharing of files across platforms like Box.com, Sharepoint, email, and more, companies are looking for ways to increase security. There is a need to safely and easily access, share, and collaborate on secure content. However, if the platform isn't easy to use, workers often avoid the system leading to a decrease in compliance.
BlackBerry Workspaces protects files at rest, in transit, and on all devices with 256-bit encryption. The unique file security provides access control and enforces digital rights management giving control over who can access files and what they can do once they have them. Files are protected even after they have left the firewall and security settings can be remotely changed or revoked at any time.
This webinar will be an overview of the industry-leading enterprise file synchronization and sharing (EFSS) solution, BlackBerry Workspaces. During this webinar, attendees will learn how easy it is to enhance security posture, reduce costs, and control files wherever they end up through case studies and a demonstration of the solution.
To register, visit https://register.gotowebinar.com/register/8621239172099430147.
###
Zia Consulting delivers Enterprise Content Management (ECM) and Intelligent Document Capture solutions addressing the needs of enterprises to better manage, process, and secure documents. Offerings tackle key issues of ECM user adoption and cost reduction through document automation and a desire for ECM and capture modernization including the cloud. Our vertical accelerators for insurance, mortgage, accounts payable, and more are utilized by some of the world's largest enterprises to deliver rapid ROI and enhanced governance.