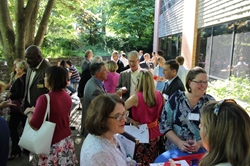 Frederick, MD (PRWEB) August 29, 2017
Fort Detrick Alliance is partnering with FITCI in its 9th Annual Technology Showcase to link the business community to Fort Detrick Research facilities. In conjunction with the event, FITCI will hold a ribbon-cutting ceremony for its new Biotech Shared Lab. Attendees will tour the new lab and meet FITCI entrepreneurial businesses professionals. Dr. Kenneth Bertram, Principal Assistant for Acquisition, US Army Medical Research and Materiel Command at Fort Detrick, the keynote speaker, will speak about research advancements.
The event kicks-off with a catered networking reception at 4:30 p.m. followed by presentations by County Executive Jan Gardner and Frederick City Mayor Randy McClement. Hors d'oeuvres and a drink ticket are included in the event price.
Register online through September 1 at http://www.fortdetrickalliance.org/events or by email to director(at)fortdetrickalliance(dot)org. Register by phone at 301-788-9896. Tickets are $15 per person for members and $35 for nonmembers.
For more information contact Amanda Johnston, Fort Detrick Alliance executive director, at amanda.johnston(at)fortdetrickalliance(dot)org or Kathie Brady, FITCI, at kathie(at)fitci(dot)org.