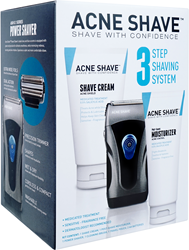 Acne Shave is an optimal choice for teens and young men on-the-go, or anyone dealing with the issues caused by shaving with acne. The product's sleek, modern packaging combined with premium quality components and an affordable price tag, make it a great grooming gift for guys
CERRITOS, Calif. (PRWEB) October 19, 2017
New, first-to-the-marketplace shaving product for men with acne, Acne Shave™ (http://www.acne-shave.com), has officially announced an exclusive, limited engagement retail deal with Bed Bath & Beyond subsidiary, Harmon Face Values. The limited-run deal, which only extends until the beginning of 2018, marks the new medicated shave product's debut in the cosmetics, health and beauty retail markets.
Acne Shave™ is a three-step medicated shaving system for men, meant to control and manage acne while shaving. The men's grooming product is the first of its kind to appear in the marketplace, due to its bundled kit packaging which includes a dedicated power shaver.
The three steps in Acne Shave's shaving regimen are the brand's Medicated Shave Cream, a high-quality shaving cream containing 0.5% Salicylic Acid to combat acne, and Aloe Vera to shield skin from irritations; a Power Shaver, providing a safe and effective method of shaving with acne, by reducing the risk of cuts and further skin irritation; and a post-shave, hydrating Medicated Moisturizer – also containing 0.5% Salicylic Acid – which serves as a skin-comforting treatment for current and future breakouts.
Made in the USA, Acne Shave's shave cream and post-shave moisturizer combine science and natural ingredients: the cream and moisturizer are infused with Vitamin E, Aloe Vera, Avocado and Almond Oils, to complement the products' medicated treatment via Salicylic Acid. The three-step kit, also packaged in the USA and currently retailing for $24.99, contains the shave cream and moisturizer, plus the power razor, cleaning brush, travel pouch and two AA batteries. The shave cream and moisturizer are also individually sold for $7.99 each.
"Acne Shave's tagline is 'Shave with Confidence'. We've assembled an affordable yet effective trio of products – all dermatologist recommended – meant for sensitive, acne-prone skin, which often falls prey to excessive irritation due to shaving with conventional razors, and products not meant for acne," said Eugene Choi, Co-Founder of United Exchange Corp. (UEC), Acne Shave's distributor.
Choi Continued, "Acne Shave™ is an optimal choice for teens and young men on-the-go, or anyone dealing with the issues caused by shaving with acne. The product's sleek, modern packaging combined with premium quality components and an affordable price tag, make it a great grooming gift for guys, for holidays, or practically any other occasion."
United Exchange Corporation, headquartered on the border of Los Angeles and Orange Counties, is a privately-held, minority owned company (Certified Women's Business Enterprise; WBENC). Established in 1993, the company has been providing health, beauty, personal and household care products to retailers throughout the world for more than 20 years. United Exchange partners with state-of-the-art manufacturing facilities domestically and overseas, to bring innovation and technology to their customers. With three domestic distribution centers throughout the country, an office in South Korea and partners overseas, United Exchange provides a speedy and efficient turnkey solution for consumer packaged goods needs.
Acne Shave™ is a registered trademark of Chatsworth Pharmaceuticals LLC, founded by industry veteran Frank Loffa. Loffa created the concept and worked very closely with the executive and product development team at UEC in developing the Acne Shave™ product line. During his career, Loffa was President/CEO of Newhall Laboratories, EVP/General Manager of Universal Group, a licensee of P&G, and also spent 14 years with St. Ives Laboratories, where he was VP North America at the time of the company's sale to Alberto-Culver. Loffa also worked for Alberto-Culver, Johnson & Johnson and Ralston Purina.
Acne Shave™ is currently available exclusively through Harmon Face Values, until the beginning of 2018.
More information is available on the Acne Shave™ web site: http://www.acne-shave.com. Acne Shave is also on Facebook, Instagram and Twitter, at facebook.com/acneshave and @acneshave. To reach the company directly, please call 1.800.814.8028.
For further information about Acne Shave, or to request samples for review, please contact Anna Ferguson-Sparks, Stiletto Marketing, at 1.877.327.2656 or info [at] stilettomarketing [dot] com.