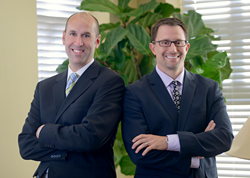 CORNELIUS, N.C. (PRWEB) October 17, 2017
Drs. Steven White and Brad Haines are currently raising awareness of the benefits of treating various oral health issues, such as gum disease, tooth loss and malocclusion with full mouth reconstruction services. Combining a variety of customized services, Drs. White and Haines craft unique treatment plans that restore oral function and provide a renewed smile.
Patients with missing teeth, gum disease and other oral health issues are encouraged to find out if a full mouth reconstruction can help restore their oral health, functionality and appearance. Among other reconstructive services, Drs. White and Haines offer same-day dental crowns, porcelain veneers and dental implants in Cornelius, NC. Full mouth reconstruction makes it possible for patients who need a variety of cosmetic and reconstructive services to receive the care they need from one practice, instead of visiting multiple practices for each treatment type. It also offers patients the benefit of a single treatment plan for effective care.
Dental implants are commonly utilized as part of a full mouth reconstruction plan because they can restore dental function and improve appearance. They are also permanent tooth replacement solutions that are known to last for many years when adequately cared for. Dental implants provide the unique benefit of bone stimulation and can improve bone density in patients who have lost bone mass due to tooth loss. Patients who have lost teeth due to gum disease may need to undergo periodontal disease treatments or bone grafting procedures prior to receiving dental implants. Drs. White and Haines also offer other services intended to improve oral health and appearance, including temporomandibular joint (TMJ) disorder and sleep apnea treatments, bridges, fillings and orthodontics.
Patients with missing teeth from gum disease or any other cause are invited to meet with Drs. White and Haines to find out if they are good candidates for oral reconstructive procedures, including dental implants in Cornelius, NC. Consultations can be scheduled by calling White and Haines Advanced Dentistry at 704-896-9535.
About the Practice
White and Haines Advanced Dentistry is a general dental practice offering personalized dental care to patients in Cornelius, NC. Dr. Steven White offers more than 20 years of experience in general and cosmetic dentistry. He has served as a mentor at the Nash Institute for Dental Learning as well as an instructor with the Advanced Aesthetics Program. Dr. Brad Haines was named a Top 40 Dentist Under 40 in Incisal Edge Magazine and brings more than a decade of experience in general and cosmetic dentistry. Drs. White and Haines strive to understand each patient's unique set of goals to help them reach a healthy smile and they are members of the American Dental Association, Dental Organization for Conscious Sedation and Charlotte Dental Society, among many others. To learn more about Drs. White or Haines or the services they offer at their practice, please visit their website at http://www.drswhiteandhaines.com or call 704-896-9535 to schedule an appointment.