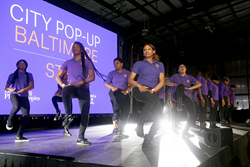 This is about how you can STEP but step in to your future. It's not about where you come from, it truly is about where you are going.
BALTIMORE (PRWEB) October 16, 2017
Bloomberg Philanthropies and the Tribeca Film Festival hosted nearly 500 Baltimore residents at City Pop-up: Baltimore, a free, public screening of the award-winning documentary STEP on Friday, October 13. The screening, held at the UA House at Fayette operated by Living Classrooms, was followed by a special performance by the Lethal Ladies step team from the Baltimore Leadership School for Young Women.
The sold-out event featured special guest speakers Baltimore City Mayor, Catherine E. Pugh, principal at Bloomberg Associates, Katherine Oliver, STEP Film Director, Amanda Lipitz and Director of UA House at Fayette, Jasmine Campbell, as well as music by DJ 5 Starr, appearance by the Baltimore Ravens Cheerleaders, and complimentary food from Anegada Delights, Bistro Lunch Box, Taco Bar, Taharka Brothers and Sobo Café.
"This is about how you can STEP but step in to your future. It's not about where you come from, it truly is about where you are going. So what we say here in Baltimore - for all of our young people - there is nothing that you can't do, there is nothing that you can't become if you put your heart and soul in it," said Baltimore Mayor Pugh.
Bloomberg Philanthropies and the Tribeca Film Festival selected Baltimore for the first City Pop-Up event because of the film's inspirational story and the city's resilient community spirit. City Pop-Up was born from Bloomberg Philanthropies and Tribeca's joint mission to help revitalize cities and build communities by bringing people together through film and entertainment. 
Winner of the U.S. Documentary Special Jury Award for Inspirational Filmmaking at the 2017 Sundance Film Festival, STEP is the true-life story of the Lethal Ladies, an all-girls, high-school step team set against the background of the heart of Baltimore. These young women learn to laugh, love and thrive – on and off the stage – even when the world seems to work against them. Empowered by their teachers, teammates, counselors, coaches and families, they chase their ultimate dreams: to win a step championship and to be accepted into college. STEP was released by Fox Searchlight Pictures in August 2017 and will be available on DVD in select stores and digital beginning October 17.
About Bloomberg Philanthropies
Bloomberg Philanthropies works in more than 120 countries around the world to ensure better, longer lives for the greatest number of people. The organization focuses on five key areas for creating lasting change: Arts, Education, Environment, Government Innovation and Public Health. Bloomberg Philanthropies encompasses all of Michael R. Bloomberg's charitable activities, including his foundation and his personal giving. In 2016, Bloomberg Philanthropies distributed over half a billion dollars. For more information, please visit bloomberg.org or follow us on Facebook, Instagram, Snapchat and Twitter.
About the Tribeca Film Festival
The Tribeca Film Festival is a cultural event for the new age of storytelling that brings together visionaries across industries and diverse audiences. It celebrates the power of storytelling in a variety of forms – from film to TV, VR to online work, and music to gaming. As a platform for creative expression, independent filmmaking, and immersive entertainment, Tribeca champions emerging and established voices, discovers award-winning filmmakers and creators, curates innovative experiences, and introduces new technology and ideas through premieres, exhibitions, talks, and live performances. The 17th annual edition of the festal will take place April 18-29, 2018.
The Festival was founded by Robert De Niro, Jane Rosenthal and Craig Hatkoff in 2001 to spur the economic and cultural revitalization of lower Manhattan following the attacks on the World Trade Center. With strong roots in independent film, the annual event has evolved into a destination for creativity, reimagines the cinematic experience, and explores how art can unite communities. http://www.tribecafilm.com
SOCIAL HANDLES:
Twitter: @Tribeca
Instagram: @tribeca
Facebook: facebook.com/Tribeca
Snapchat: TribecaFilmFest
Hashtag: #Tribeca
Twitter: @StepTheMovie
Instagram: @StepTheMovie
Facebook: facebook.com/StepIsLife
Hashtag: #StepIsLife
http://www.foxdigitalhd.com/step
PRESS CONTACTS
Bloomberg Philanthropies
Rebecca Carriero, +1 212-205-0182 or Rebeccac(at)bloomberg.org
Tribeca Enterprises:
Tammie Rosen / 212.941.2003 / trosen(at)tribecafilmfestival.org
Alyssa Grinder / 212.941.2015 / agrinder(at)tribecafilmfestival.org