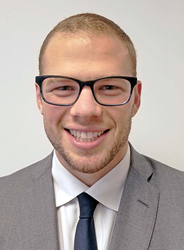 Our experienced investment advisors focus primarily on risk-adjusted rates of return with careful attention to portfolio downside protection. Kyler is a valuable addition to the team. – Jeffrey Sweeney, CEO, US Capital Partners
SAN FRANCISCO (PRWEB) October 19, 2017
San Francisco-based private financial group US Capital Partners Inc. announced today that Kyler Hasson, founder of Hasson Investments, has joined the group's Wealth Management division, US Capital Wealth Management, as Vice President.
US Capital Wealth Management specializes in providing thoughtful, independent wealth management solutions to enable clients to build and protect their wealth. From $4 billion worth of deal flow reviewed each year, US Capital Wealth Management offers only the best-of-the-best investment opportunities to its clients, with a focus on personalized service and mitigation of the risks inherent in investing.
Prior to US Capital Wealth Management, Mr. Hasson founded Hasson Investments, a private investment firm and registered investment adviser based in Mountain View, CA. Using a value-based, bottom-up approach, he rapidly grew the firm's assets under management. A graduate and postgraduate of Stanford University, Mr. Hasson specializes in portfolio management and investment advisory, and works closely with clients to promote lasting financial success.
"I am extremely pleased to welcome Kyler to the firm's rapidly expanding Wealth Management division," said Jeffrey Sweeney, Chairman and CEO at US Capital Partners. "Clients at US Capital Wealth Management gain access to expert wealth advisory with customized portfolio construction and management. Our experienced investment advisors focus primarily on risk-adjusted rates of return with careful attention to portfolio downside protection. Kyler is a valuable addition to the team."
Commenting on his new role, Mr. Hasson said, "I am excited to join US Capital Wealth Management and to have the opportunity to work with such an experienced team of investment professionals. The division's wealth management capabilities, coupled with easy access for clients to the entire group's professionals and innovative enterprise-based finance products, is a benefit that resonates strongly with clients. I look forward to supporting the division's continued expansion."
About US Capital Partners Inc.
Since 1998, US Capital Partners Inc. has been committed to providing small and lower middle market businesses and investors with sophisticated debt, equity, and investment opportunities usually available only to larger middle market companies and institutional investors. The firm manages direct investment funds and provides wealth management and M&A services. Operating with its registered investment bank affiliate, US Capital Global Securities, LLC, the firm acts as a licensed placement agent, and collaborates closely with its peers in professional banking and investment advisory.
To learn more, email Jeffrey Sweeney, Chairman and CEO, at jsweeney(at)uscapitalpartners(dot)net or call (415) 889-1010.