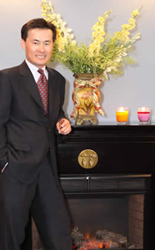 GARDEN GROVE, Calif. (PRWEB) October 24, 2017
In honor of Dental Hygiene Month, Dr. Jin Y. Kim urges patients with bleeding gums in Garden Grove, CA and Diamond Bar, CA, to learn more about the harmful of effects of untreated gum disease. Those who have symptoms of periodontal disease and would like to improve their oral health are encouraged to learn more about the benefits of LANAP®, a less invasive and less painful laser-assisted alternative to traditional treatment options.
Gum disease, also referred to as periodontal disease, is one of the most common oral diseases affecting adults in the United States. Unfortunately, it is also frequently overlooked because many people do not know its common symptoms. Symptoms frequently include persistent bad breath, bleeding gums, loose teeth and gum recession. Bleeding gums is one of the most recognizable symptoms, which is why Dr. Kim encourages patients with bleeding gums in Garden Grove, CA and surrounding areas, to schedule an appointment for treatment right away, before it leads to systemic health issues. Periodontal disease comes in three stages: gingivitis, periodontitis and advanced periodontitis. The disease can be reversed if caught and treated during the gingivitis stage. Unfortunately, periodontitis and advanced periodontitis cannot be reversed, but they can be managed with consistent care from a qualified periodontist.
Dr. Kim offers minimally invasive periodontal disease treatment with the LANAP protocol. The FDA-cleared laser procedure provides efficient, minimally painful treatment without sutures or scalpel incisions. It targets and destroys harmful bacteria and diseased tissue, then encourages clotting to seal the area and facilitate rapid healing while keeping bacteria out. LANAP laser gum surgery does not harm healthy tissue and is the only treatment proven to encourage reattachment of healthy tissue.
Patients with bleeding gums in Garden Grove, CA and Diamond Bar, CA, are encouraged to receive gentle and reliable laser gum disease treatment with LANAP. Appointments with Dr. Kim can be reserved by calling his Garden Grove practice location at 714-898-8757, his Diamond Bar location at 909-860-9222, or by visiting http://www.drjinkim.com.
About the Doctor
Dr. Jin Y. Kim is a periodontist dedicated to providing personalized dental care in Diamond Bar and Garden Grove, CA. Dr. Kim attended the University of Sydney Faculty of Dentistry before furthering his education with an advanced degree in pathology from the Medical School of the same University. Dr. Kim completed a periodontics and implant surgery residency at UCLA School of Dentistry and is board-certified by the American Board of Periodontology and the American Board of Oral Implantology/Implant Dentistry. He is a past president of the Western Society of Periodontology and was also inducted to be a Fellow of the prestigious American College of Dentists and earned Fellowships in the International Congress of Oral Implantologists and the American Academy of Implant Dentistry. Dr. Kim lectures and holds faculty positions at a number of universities including UCLA School of Dentistry and abroad. He has spoken at no less than 36 different countries across the globe as well as national and international academic and clinical associations and universities including the International Association of Dental Research, American Academy of Periodontology and Academy of Osseointegration. To learn more about Dr. Jin Kim and the services he offers, visit his website at http://www.drjinkim.com or call 909-860-9222 for the Diamond Bar location or 714-898-8757 for the West Garden Grove location to schedule an appointment.