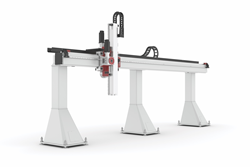 Ann Arbor, Michigan (PRWEB) October 30, 2017
Güdel, the global manufacturer of linear motion modules, robot track motion units, gantry robots and components, is pleased to introduce the Turbo Gantry, a high-speed variant of Güdel's front-of-line (FOL) gantries, which can increase destacking system throughput by up to 20 percent.
Güdel's Turbo Gantry features a water-cooled motor and Güdel proprietary dual-prismatic bearing clusters. Taken together, these refinements provide a performance increase of up to 20 percent. This results in an increase of approximately two-plus parts per minute on many typical FOL applications, depending on maximum loads and tooling requirements. 
When combined with optional equipment, the Turbo Gantry becomes the in-line Turbo BDS (Blank Destacking System), which is adaptable to any press configuration and floor-space requirements. The many standard options for FOL gantries such as the Turbo BDS include carts with integral lifts or lifts in the floor, programmable nest stations, automatic fanner stations with aluminum destacking options, provisions for continuous-run that incorporate stack forks into fanner stations and manually operated fanning capabilities and options.  
The same technology used in the Turbo Gantry can also be used in the Güdel floor shuttle, an option for various FOL configurations requiring additional reach. This is typically equipped with manual changeover capabilities for customer-supplied nests. Güdel continues to research and improve technologies as industry demands evolve, which is part of the Continuous Improvement Commitment.
For more information, contact Joe Campbell at 734-214-0000 or joe.campbell(at)US(dot)Gudel.com, or visit Güdel.com.
About Güdel Inc.
Güdel Inc. is the U.S. subsidiary of Güdel Group, a global manufacturer of robotic automation products, systems and services. Güdel supplies linear motion modules, robot track motion units, gantry robots and components to OEMs, systems integrators and machine builders serving the automotive, aerospace, logistics, heavy industrial and power generation industries. Güdel Inc. is located in Ann Arbor, Michigan, in a dedicated 45,000-square-foot facility, providing North American customers with engineering, design, production and customer service support. Güdel Inc. also operates a satellite engineering office in Troy, Michigan.
Güdel Group was founded in 1954. Headquartered in Langenthal, Switzerland, today Güdel operates in 21 locations worldwide.
# # #
For editorial inquiries please contact jenn.rogers-harris(at)US(dot)Gudel.com.
Contact
Joe Campbell
Vice President, Sales & Marketing
joe.campbell(at)US(dot)Gudel.com
Jennifer Rogers-Harris
Marketing and Sales Operations
jenn.rogers-harris(at)US(dot)Gudel.com