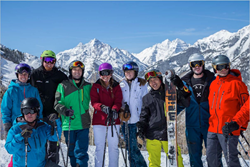 CBC delivers high quality journalists in an exciting and interactive format, that allows us to deliver the power that is the real Aspen experience. - Jeff Hanle
BOSTON (PRWEB) August 29, 2017
CerconeBrownCompany (CBC) is now working on behalf of some of the nation's most coveted destinations – Charleston, Aspen, Telluride and Boston – to not only paint a beautiful picture of each city, but to give press a lasting impression of the culture, tone and rhythms of these unique destinations.
Called Destination Experiences, these media programs are based on the long-running CBC House Programs, where groups of the nation's top lifestyle press live together in houses set in idyllic locations from Nantucket to Sonoma. While visiting, editors experience the best new products from an assortment of brands, unfiltered and unscripted.
By working with insiders that know these locations inside and out, CBC was able to curate deep-dive experiences that go far beyond the typical press junket. The result is not just coverage in travel publications, but also in lifestyle outlets including Vogue, Forbes, NBC Today and InStyle that convey each city's culture, food, fashion and way of living. Amping up social reach in real time, bloggers and influencers are also invited to participate in the programs.
"Traveling today is about collecting unique experiences, and sharing rare finds; it's an adventure more than a vacation," said Noelle Guerin, director of experiential PR, CerconeBrownCompany. "For places like Aspen, especially, there's a world beyond the glitz and glam that most associate with the destination, but rarely ever see. It's this true experience that makes you fall in love and come back again and again."
The first Destination Experience was Aspen. The Aspen Ski Company approached CBC wanting to create a House Program that incorporated local brands, businesses, and the growing industry that exists within a little ski town – while also featuring the natural beauty that is Aspen. CBC brought editors to experience first tracks on the most sought after slopes in Aspen, cocktails at the J Bar, ski making with Meier Skis, and breakfast with the legendary Klaus Obermeyer, among other expertly curated opportunities at their resorts, restaurants and ski-mountains.
"CBC delivers high quality journalists in an exciting and interactive format, that allows us to deliver the power that is the real Aspen experience," Jeff Hanle, director of public relations, Aspen Skiing Company.
CBC's second Destination Experience took place in Charleston, SC, in partnership with the Charleston Visitors Bureau: Explore Charleston. This four-day event uncovered the pure charm of Southern hospitality that makes Charleston so alluring.
In this past year, CBC completed its first "Telluride Experience" which positioned the city as the "go-to" destination for people looking for luxury and adventure. The editors in attendance wrote for a variety of lifestyle publications from Vogue to Today.com and all have covered the story through extensive social posting and feature articles about Telluride.
Just last month, CBC hosted Boston Experience, during which editors from Forbes Travel Guide, Self.com and Women's Health, among others, participated in a cranberry bog tour with Ocean Spray, a fish pier visit and boat tour with Legal Seafood, rooftop yoga with Crane & Lion and experienced some of the best dining in New England.
By 2018, the firm will expand the format of destination experiences to other cities across the U.S. and the world. Potential destinations include Nashville, TN, Juneau, AK and Austin, TX as well as Cuba, Sweden, Brazil and Uruguay. For more information, visit http://www.cerconebrown.com.
About Cercone Brown
An experiential marketing, PR and advertising agency founded in 2001, CBC works with brands on a mission; whether it's helping people experience the thrill of the great outdoors, enjoy the world's best tasting tomatoes, or live cancer free. We produce entertaining TV spots, smart digital strategies and innovative apps, buzz-worthy PR and social media campaigns, branded entertainment, as well as build and run live events. The firm is headquartered in Boston, with offices in New York and Santa Monica. More information about us can be found at http://www.cerconebrown.com.