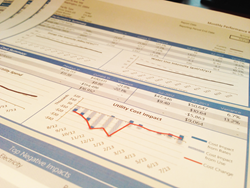 The value provided by Skywalk, and our team's ongoing effort to improve it, opened new opportunities for us and will continue to do so.
SILVER SPRING, Md. (PRWEB) February 02, 2018
SOL VISTA®, the leading provider of cross-brand, hotel energy analytics and utility benchmarking services, finishes its strongest year since the company's founding in 2010. Its 2017 achievements include huge advancements in its Skywalk® SaaS platform and significant expansion of the platform's subscriber base, which now boasts buildings in 36 states, the District of Columbia, and several Caribbean islands. Subscribers added in 2017 include numerous noteworthy properties such as Hilton Waikoloa Village, Westin O'Hare, and Ritz Carlton Pentagon City.
Skywalk's advancements include more sophisticated analytics and a significant expansion to its automated data aggregation capabilities, which now include direct interaction with over 200 unique utilities across the U.S. These improvements helped Skywalk subscribers save millions on their utility bills while also reducing their Greenhouse Gas Emissions by an amount equivalent to taking 10,000 cars off the road for a year.
Skywalk also expanded the types of buildings it serves to include senior care communities, K-12 schools, and places of worship, along with those previously served—hotel, office, indoor arena, and multifamily housing.
Some other achievements include:
•Providing energy supply services for subscribers in thirteen states and the District of Columbia.
•Handling building energy benchmarking compliance for subscribers in fifteen U.S. jurisdictions.
•Being honored for innovation among small businesses at the 2017 Green Awards Gala.
•Supporting Montgomery County, MD's benchmarking compliance enforcement efforts by coordinating with and supporting local building owners and operators to help them comply with the laws.
"We finished the year strong with Rockbridge subscribing its portfolio of 42 hotels. Their choice was driven by our proven ability to continuously save customers money. The value provided by Skywalk, and our team's ongoing effort to improve it, opened new opportunities for us and will continue to do so," said SOL VISTA CEO and Co-founder Shannon Sentman. "What we offer isn't limited by the typical service siloes in our industry. We look at the whole picture as viewed by our customers. This includes supply-side and demand-side issues. There are inefficiencies on both sides, and Skywalk and our other services were built to find and address them."
ABOUT SOL VISTA®
SOL VISTA® helps the hotel industry improve the operating performance and value of their buildings. Its Skywalk® SaaS platform automates ongoing building performance and utility rate monitoring providing subscribers with ready insights and actionable alerts enabling immediate and sustained savings. Skywalk, with one of the world's largest databases of cross-brand hotel energy and water usage and cost data, delivers a comprehensive building analytics and benchmarking solution that tracks over 50 million square feet of space having annual utility costs of nearly $150 million, while programmatically aggregating data from over 200 unique utilities.
SOL VISTA helps to reduce utility costs and usage for hundreds of commercial buildings located throughout the U.S. and Caribbean. For a list of their customers, visit http://www.solvista.com/clients.html.