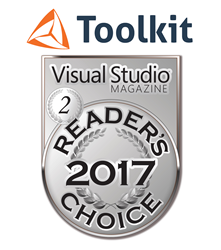 "The Visual Studio Award is especially important to us because it's voted on by developers in a variety of industries." ~ Tim Sullivan, ActivePDF CEO
LAGUNA NIGUEL, Calif. (PRWEB) April 16, 2018
ActivePDF, the leading provider of PDF automation technologies and solutions, has once again been awarded the Visual Studio Magazine Reader's Choice Award Silver Medal. This the 12th year that Toolkit has been recognized by Visual Studio Magazine, honoring the best in Visual Studio and .NET Framework related tools and services in 36 categories.
The 24th Annual Reader's Choice Awards winners are based on the responses of hundreds of Visual Studio Magazine subscribers who voted for their favorite products. The editors of Visual Studio Magazine sifted through more than 400 products and services to compile the results. Toolkit won in the category of "PDF and Print/Preview Components and Tools."
Often awarded for it's versatility, Toolkit enables developers to deliver efficiency in high-volume, repeatable business document processes. Toolkit offers .NET developers a suite of programmatic PDF manipulation functionality to create, convert, view, and extract within their existing enterprise applications.
"This year, Visual Studio Magazine readers weighed in with their votes from products ranging from individual component collections to full-fledged frameworks," said David Ramel, Editor in chief of Visual Studio Magazine. "Whether you're looking for just the right security solution or a good Web host, there's no better guidance than the opinions of your fellow coders."
The latest release of Toolkit 8.1.0 builds on it's reputation for delivering the best in PDF creation, manipulation and extraction. Advanced improved enhancements include upgraded barcode library, improvements to better manage PDF form fields and more.
"We are always proud and honored when Toolkit gets recognized at this level," says Tim Sullivan, ActivePDF Chief Architect and CEO. "The Visual Studio Award is especially important to us because it's voted on by developers in a variety of industries. With the recent release of Toolkit 8.1.0, we hope to continue this special relationship with our users."
The complete list of Visual Studio Reader's Choice Award winners is available for download here.
Learn more about the award-winning Toolkit by visiting the Toolkit Product Page and read the latest about Toolkit 8.1.0. Try Toolkit today for a 15-day Free Trial.
About ActivePDF
Founded 2000, ActivePDF Inc., is privately held and is a global provider of PDF tools for integration within virtually any business process, including Digital Transformation, Enterprise Content Management (ECM), Document Management, and Workflow solutions. The ActivePDF suite of technologies and solutions are represented amongst 40% of Fortune 500 companies and are designed to streamline large volumes of rendering and assembly of content into accurate, secure and accessible PDFs. ActivePDF continues to deliver on tens of thousands of deployments while serving millions of users from 90 countries in key industries such as Healthcare, Financial, Education, Manufacturing, Utilities, Engineering, Legal and Government. For more company information, visit ActivePDF.com.
For additional information, please contact:
Derek Gerber, Director of Marketing
derek.gerber@activepdf.com
ACTIVEPDF and the ActivePDF Logo are registered trademarks of ActivePDF, Inc. All other trademarks are property of their respective owners.