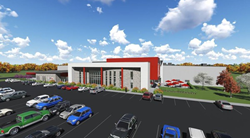 URBANA, Iowa (PRWEB) April 10, 2018
Clickstop will celebrate a recent expansion to their 135,000 sq. ft work space, by opening its doors to the public during an open house event on May 10.
Tours of the Clickstop campus will be available from 3pm-5pm, with networking opportunities following.
All media, residents of Urbana and surrounding areas, Clickstoppers, and their families are invited to this event. Heavy hors d'oeuvres and light refreshments will be provided by Clickstop's internal restaurant, Fuel.
Highlights of the expanded space include a central grand room, skybox, game area, onsite restaurant, spa/treatment room, pub, and training room. The campus is laid out to accommodate Clickstoppers who need quiet, focused space as well as fast-paced, dynamic collaboration.
For more information on Clickstop or the Open House, visit http://www.clickstop.com.
About Clickstop, Inc.
Clickstop, Inc. grows business units of different sizes, serving multiple industries and markets by employing Business Unit Fanatics™ and supporting these individuals through shared services. Clickstop drives business unit growth through their alignment with their core values, an engaged workforce and sustaining an entrepreneurial environment designed to quickly and effectively navigate change. The company's reputation and commitment to great workplace culture and engagement has landed it multiple workplace focused awards including multiple first place finishes as the Coolest Place to Work in the region.