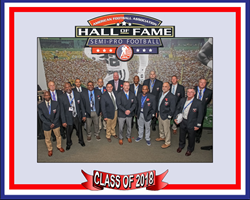 Thank you, once again, for such an amazing night and experience. I still haven't come down off of my high.
BINGHAMTON, N.Y. (PRWEB) July 01, 2018
For the seventh consecutive year, the Pro Football Hall of Fame in Canton, Ohio was the site for the American Football Association's 38th Annual Semi-Pro/Minor League Hall of Fame Induction Dinner on Friday, June 22nd. Sixteen individuals representing semi-pro/minor league football teams across the country were enshrined as 'legends' of their level.
This year's enshrinement festivities began on Thursday evening, June 21, 2018, at the Pro Football Hall of Fame in Canton, OH with the annual AFA/HOF Alumni Huddle cocktail party. The "Huddle" provided attending HOF Alumni an opportunity to meet and greet the new group of semi-pro/minor league football legends before they were inducted.
On Friday evening, the Class of 2018 was honored by AFA Alumni, family, and friends as they received their commemorative Semi-Pro/Minor League Hall of Fame recognition plaques. Craig Ochoa (Class of '03) served as MC, while former teammates and/or family members presented the new inductees to the dinner crowd. Each inductee provided very sincere and touching testimonies about their backgrounds and careers. The induction dinner event webcast was viewed by over 1000 friends, family, and fans worldwide. This webcast video is now available for viewing at AFA Hall of Fame Induction Dinner.
The American Football Association is proud to present the names of those who will be enshrined into the AFA Minor League Football Hall of Fame as the "Class of 2018" (names in parentheses indicate sponsors of the new inductees):
Executive Category:
Joel Pruneda - Kings Mountain, NC (Thomas Robinson)
Rick Sager - Johnstown, NY (Tom Manny)
Officials Category:
Steve Matthews - Peru, NY (Bill Higgins)
Player Category:
Troy Canada - Plattsburgh, NY (Linda Salmon)
Kevin Siska - Clifton Park, NY (Jim Willig)
Todd Gorsline - Milwaukee, WI (Greg Fictum)
Steven "Pooh" - Williams - Richmond, VA (Bob Yurachek)
Matthew Holmes - Westhampton, NJ (Norm Mann)
Todd Western - Minneapolis, MN (Terry Sullivan)
John Mamerow - Waterford, WI (Phil Micech)
Harry Robinson - Gloversville, NY (Upstate NY AFA Alumni)
Jim Ghislain - Woodridge, IL (Jim Nugent)
David Sanders - Kalamazoo, MI (Alphonso Smith)
James Ashley - Garfield Hts, OH (Don Kempf)
Richard McCormack - Milton, MA (Larry DeVoe/Brendan Kelly)
Fred T. Wells - Harrisburg, PA (Steve Oldt)
The enshrinement of this year's class of 16 new hall of famers will see the association's 38-year total number of inductees expand from 761 members to 777 members. Since the inaugural enshrinement in 1981 (including the Class of 2018) the AFA has recognized 470 players; 109 coaches; 89 executives; 33 officials; 25 pioneers; 21 media/historians; 13 trainer/equipment men; 6 associated with youth football; 6 involved with international semi-pro; 4 from the women's level; and even 1 'super fan'.
Our printed dinner program with sponsor ads was very well received and as a result, we are now taking ad orders for next year's dinner program. Please consider supporting our 39th Annual Hall of Fame Induction Dinner at the Pro Football Hall of Fame in 2019 (June 20th - 21st). Just click AFA Induction Dinner Program Solicitation.......
Links to key event archives:

About the American Football Association:
The American Football Association is a national 501(c)(3) non-profit, tax exempt corporation in its 38th year of operation, and is dedicated to the advancement of adult (semi-pro) football from coast-to-coast. Our slogan is Semi Pro & Proud®. We are not affiliated with any other national semi-pro/minor league organization. The AFA, Hall of Fame, American Football News™ and AFA logo design are registered trademarks of the American Football Association. All other AFA-related trademarks are trademarks of the American Football Association.