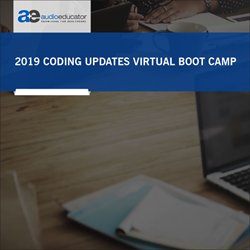 Dig deep into the CPT and ICD-10-CM game-changers for the coming year and get ready to receive the rightful reimbursement.
DURHAM, N.C. (PRWEB) June 05, 2018
AudioEducator, a division of web-based training and corporate education leader ProEdTech, will host the 2019 CODING UPDATES VIRTUAL BOOT CAMP: Preparing Coders for a Successful 2019. The three-day boot camp will be hosted from November 28 – 30, 2018 by more than 15 industry experts in 12 top coding specialties.
Join AudioEducator's annual, giant-sized, specialty-packed coding boot camp and get all the knowledge and expert strategies to master billing for the year ahead! Navigating the medical coding and compliance world won't get any easier, but you can cut down on the frustration by getting all the specialty-specific rule updates—all at once—from the healthcare industry's most knowledgeable veterans.
Be a part of the year's biggest virtual coding boot camp—where expert panelists will help coders and other healthcare professionals to fill their toolboxes with practical skills to confidently handle everyday coding challenges. Learn about all the specialty-specific coding deletions, additions, and revisions—and gain insights on ever-changing reimbursement and documentation guidelines.
Every year, the Centers for Medicare & Medicaid Services (CMS) and third-party payers introduce a whole slew of changes. Failure to fully learn and align policies with these coding, billing, reimbursement, and compliance updates means leaving dollars on the table—and risking denials after denials. Instead of sifting through numerous manuals and publications, get the most comprehensive instruction on the latest coding updates for CPT, ICD-10-CM, HCPCS for 2019 – all in one place.
The three-day virtual boot camp will help practices working in 12 top specialties to:

Get all the specialty-specific coding updates for 2019: CPT, ICD-10-CM, HCPCS.
Find out what 2019 has in store regarding compliance, quality measures, value-based reporting, audit risk areas, and documentation guidelines.
Gain a deeper understanding from expert insights on high-level regulatory issues like MACRA, ACA, and other reforms.
Discover new strategies and tips for maximizing reimbursement, minimizing denials, and nipping cash flow problems in the bud!
Enhance coding knowledge and skills, and learn the secrets to running practice's billing as a well-oiled machine.
Specialty session tracks include: Anesthesia, Cardiology, Gastroenterology, Ob-gyn, Ophthalmology, Orthopedics, Otolaryngology, Pain Management, Pathology, Pediatrics, Radiology, and Urology.
The panel of expert speakers includes coding masters Barbara Cobuzzi, Terri Fletcher, Jill Young, Lori Lynn Webb, Jeff Restuccio, Margie Vaught, Lynn Anderanin, Amy Turner, Ellen Garver, Donelle Holle, Kelly Dennis, Michael Ferragamo, and more.
For more information and to register, visit: https://www.audioeducator.com/virtualbootcamp/coding-updates
Get $200 off on medical coding updates 2019 bootcamp. Use Code PRWEB200 on checkout.
About ProEdTech
ProEdTech is a leading source of knowledge and training for professionals in over 15 industries, serving individuals, businesses and their employees around the globe. It offers webinars, online conferences, seminars, boot camps, books, DVDs, white papers, industry reports and other learning tools from industry experts and insiders who provide a fresh perspective on key issues, trends and regulations to simplify governance, risk and compliance (GRC) for enterprises and industry professionals. ProEdTech's AudioEducator webinars offer updates, regulatory knowledge and information on the latest news in various medical specialties, as well as coding and billing updates, and analysis of regulations that affect ambulatory surgical centers, home health, long term care and hospice facilities, hospitals and healthcare systems, health insurers and physician practices. Webinars are also offered through AudioSolutionz in the technology, human resources, construction and housing, ICT and telecom, manufacturing, consumer packaged goods and retail, safety and security, transportation, energy and environment, education, trade, and chemicals industries. ProEdTech's Eli Financial platform provides high-quality online training products customized for U.S. lenders and tax practitioners, including the latest updates from the IRS, CFPB and other regulatory authorities. ProEdTech regularly provides professionals the opportunity to get answers to their most complex questions directly from experts, without having to attend costly live conferences. To learn more, visit: http://proedtech.com/.