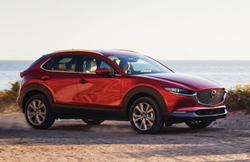 IRVINE, Calif. (PRWEB) December 31, 2020
With many 2021 models released to the public, those interested in purchasing or leasing a new model has many options to choose from. Of the brands, Mazda offers several options for those interested in crossover models. Especially in the Irvine community, the brand provides four total crossover options to choose from at Tuttle-Click Mazda. The options available at the local dealership include the 2021 Mazda CX-3, CX-30, CX-5 and the CX-9.
With two models in the extra-small crossover category, the 2021 Mazda CX-3 and the CX-30 are unique options within the Mazda model lineup. In just its second year, the 2021 Mazda CX-30 impresses audiences with its two engine options. Two unique trim levels have been added to the model, including the 2.5 Turbo and 2.5 Turbo Premium trim levels. Both options offer the SKYACTIV®-G 2.5-liter turbocharged engine found in larger Mazda crossovers. Meanwhile, the 2021 Mazda CX-3 comes in a single streamlined trim level. However, it offers features found only at higher trim levels of crossovers such as adaptive front headlights and the active driving display.
As one of the flagship Mazda models, the 2021 Mazda CX-5 continues to offer its wide range of features and specifications. With two engine options, customers can opt for fuel economy with its standard SKYACTIV®-G 2.5-liter engine or go with the turbocharged engine mentioned earlier with the Mazda CX-30 Turbo. The model also receives several new safety features at higher trims.
Lastly, Tuttle-Click Mazda has several 2021 Mazda CX-9 models in stock. The vehicle is the largest Mazda model and offers seating for up to eight passengers. It is the only three-row crossover manufactured by the brand. Similar to the 2021 Mazda CX-5, the CX-9 model received several safety feature enhancements at higher trim levels.
Customers looking for the 2021 Mazda crossover lineup can find the above-mentioned models at Tuttle Click Mazda. Located at 41 Auto Center Drive in Irvine, the dealership can be visited in-person or over the phone. An associate can be available via phone at 949-245-6306. Those interested can also visit the dealership website at https://www.tuttleclickmazda.com/.