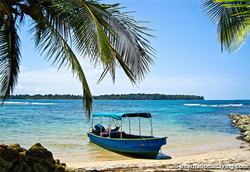 If you know where to go, you can live with all the sun and sand you want, for less than it costs to stay in North America
BALTIMORE (PRWEB) October 16, 2018
"The idea of Caribbean island living comes with the romance built in—crystal-clear, bathtub-warm waters; coconut palms trees swaying in a languid breeze; no more worrying about an early morning commute or a stressful job," says International Living's Executive Editor Jennifer Stevens.
"But most people also assume that a picture-perfect retirement like that comes with a sky-high price tag. It's the prerogative of the rich, they figure. But that doesn't have to be the case. If you know where to go, you can live with all the sun and sand you want, for less than it costs to stay in North America. Our International Living report highlights five good-value tropical islands we recommend."
English-speaking Ambergris Caye is no longer the sleepy little Caribbean island hide away it once was. But for expats who prefer to live in a dynamic community that offers both convenience and the natural beauty of the surrounding Caribbean Sea, it has much to offer.
At 25 miles long and a little over a mile wide, it is the largest island in Belize with San Pedro as its only town. The island is a hotspot for divers and fishermen, thanks to the Belize Barrier Reef. Just a half-mile offshore, this natural wonderland of living coral supports a huge array of marine life.
Belize's domestic airlines—Tropic Air and Maya Island Air—have frequent flights to the island from Belize City, so getting to Ambergris is easy. You can also reach the island by water taxi.
For between $2,700 and $2,900 per month, or $34,800 a year, a couple can enjoy a comfortable retirement in Ambergris Caye—and that includes the cost of a house or apartment rental. If you own your own home on the island outright, then expats report it's possible for a couple to live quite comfortably on less than $24,000 a year.
Panama's tropical archipelago may well be one of the best-kept secrets in the Caribbean. Close to the border with Costa Rica, Bocas del Toro is a group of nine main islands and a few hundred smaller cayos and islets, dotting calm turquoise waters.
The main hub is Bocas Town—a seaside town of brightly painted buildings with many on stilts over the water on the large island of Isla Colon.
A couple can live here on as little as $16,800 a year, or $1,400 a month, renting a simple, snug, island-style home.
Bocas, as it is known, is all about water—fishing, water sports, and whale watching are just some of the popular pastimes for locals.
Expats living here tend to be very involved in island life. Some have started businesses helping fuel the island economy, some enjoy teaching local students, and others find time to volunteer for important causes or charities. Much good has come of this growth, and the community has worked to protect the natural surroundings, including local marine life such as sea turtles.
Bocas Del Toro is also a perfect place to test drive your dream Caribbean lifestyle. The expat community is welcoming, it's organized, and it gives back.
Roatán is the largest of the Bay Islands, lying about 35 miles off the Honduran coast. The island is most famous as a diving destination and retirement haven in the western Caribbean.
It ticks a lot of boxes—affordable, white-sand beaches, see-to-the-bottom Caribbean waters, warm weather, cooling sea breezes, and a laidback island vibe.
Although, Honduras is Spanish-speaking, thanks to its historical link to England—it was once a British colony—English is widely spoken on Roatán, making the island an easy place to fit in.
Regular flights in and out of the international airport, make Roatán accessible—it's quick and easy to see family back home. But it's still out of the mainstream, at least compared to other Caribbean island getaways, and that has kept prices affordable for real estate and living costs. A couple could live well on $30,000 a year—$2,000 to $2,500 a month.
Isla Mujeres, Mexico
Isla Mujeres is about eight miles from Cancún in Mexico, but this relaxed island is a world away from the hustle and bustle of its more tourist-developed neighbor. It's a place where golf carts are preferred to cars as the main means of transport.
The island enjoys a warm tropical climate (low to mid-80s F for most of the year), which means there is plenty to do on Isla Mujeres.
Naturally, water activities top the list as the nearby reef offers amazing opportunities for scuba, fishing, swimming, boating, and snorkeling. There's even an underwater museum set up by an English sculptor to explore. And of course, there is the seasonal migration of whale sharks, which draws many to view and swim with them.
Clear, azure waters and white-sand beaches are never far away, and the cost of living is far lower than a similar lifestyle would cost back in the States. A couple can live a very nice life on Isla Mujeres for around $36,000 a year, or $2,500-$3,000 a month, including rent.
Las Terrenas, Dominican Republic
The Dominican Republic has great weather, world-class beaches and top golf courses, not to mention a low cost of living and a stable government. It's also just three-and-a-half hours from New York, which means you can leave the city in the morning and be on the beach for lunch.
The north coast of the island has some of the finest beaches in the Caribbean, the east coast is a sportsman's paradise with some of the newest designer golf courses in the region.
The little beach town of Las Terrenas in the northeast, on the Samana Penninsula, offers some of the most pristine beaches in the D.R. Here you'll find 19 miles of public beaches, and palm trees swaying in the breeze.
French and Italian vacationers have been coming here for decades. Along with the hint of saltwater in the air and the scent of fresh-cut coconuts, you'll smell French bread and croissants baking. The Italian influence is strong, too, with rich Italian gelato on offer and strong, Italian-style coffee.
A couple can live in this tropical haven for around $2,000 a month, although most choose to spend closer to $3,000 a month—$36,000 a year.
More information can be found here: 5 Best Caribbean Islands to Live On
Editor's Note: Members of the media have permission to republish the article linked above once credit is given to Internationalliving.com
Further information, as well as interviews with expert authors for radio, TV or print, is available on request. Photos are also available.
For information about InternationalLiving.com content republishing, source material or to book an interview with one of our experts, contact PR Managing Editor, Marita Kelly, +001 667 312 3532, mkelly(at)internationalliving.com
Twitter: @inliving
Facebook: https://www.facebook.com/International.Living/
About International Living
Since 1979, InternationalLiving.com has been the leading authority for anyone looking for global retirement or relocation opportunities. Through its monthly magazine and related e-letters, extensive website, podcasts, online bookstore, and events held around the world, InternationalLiving.com provides information and services to help its readers live better, travel farther, have more fun, save more money, and find better business opportunities when they expand their world beyond their own shores. InternationalLiving.com has more than 200 correspondents traveling the globe, investigating the best opportunities for travel, retirement, real estate, and investment.