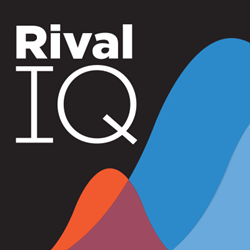 Rival IQ's easy-to-digest results enable us to spend less time compiling metrics and more time analyzing the data and identifying opportunities to set our clients apart in their market. - Shannon Woods, account executive at LANE, a Finn Partners Company
Seattle, Washington (PRWEB) August 15, 2017
Rival IQ, the leader in social marketing analytics and insights, today announced that top marketing agencies are increasingly turning to Rival IQ for social media marketing data, insights and analytics to optimize their pitch strategy, improve their client brand knowledge, more easily identify marketing opportunities, and ultimately close and retain more business.
Using Rival IQ, marketing agencies of all specialties gain powerful competitive social metrics, insights and analytics, with reports that help them present recommendations to clients in a clear and concise way.  Armed with competitive and relative data, marketing agencies are better equipped and informed about unique client challenges, and have an edge in tailoring the social creation and strategic process for every client. Features like Facebook Ads Analytics save agencies and their clients' money and time with notifications of underperforming and top-performing ad sets.
"Rival IQ helps us understand what is happening in our clients' unique competitive landscape and benchmark their social performance so we can better understand their space and advise how they can grow, and achieve better engagement," said Katee Duarte, co-founder of Duarte Group Inc.. "Rival IQ's social marketing analytics simplify massive amounts of data so we can quickly identify valuable social marketing opportunities, and help our team become better, more informed strategic marketers."
"It's an honor to work with so many agencies of every size who strive to provide guidance, deliver timely data and insights, and ultimately drive smarter decisions in partnership with their clients," said John Gallagher, head of marketing at Rival IQ. "We hear time and again from our marketing agency customers about the success they see with clients thanks to insights through Rival IQ–winning new business, improving communication and transparency, building trust with clients, and becoming smarter, more strategic digital marketers."
"We work on behalf of companies and causes where public opinion matters, like those in the energy industry, and social media is a key component in gauging public temperature and ensuring their marketing success," said Chris Conard, director of content strategy at Bravo Group. "Rival IQ gives us ​an edge in efficiency and scope when understanding a client's digital landscape. More importantly, the data and reporting structure enable us to have more transparency and instill trust with our clients – it's easier for the client see exactly how content is performing."
We believe in harnessing the power of integrated communications strategies for successful public relations," said Shannon Woods, account executive at LANE, a Finn Partners Company. "Rival IQ allows us to tie social marketing efforts directly to media wins by monitoring metrics like engagement rate, follower growth, and top-performing content. Their easy-to-digest results enable us to spend less time compiling metrics and more time analyzing the data and identifying opportunities to set our clients apart in their market."
Marketing agencies looking for actionable social media analytics and competitive insights can visit the Rival IQ and start a free trial of Rival IQ.
Contact:
Danica Benson
Rival IQ media@rivaliq.com
About Rival IQ
Rival IQ helps digital marketers make more informed content decisions, better understand their audiences and improve their social media engagement using Rival IQ's clear analytics and competitive intelligence insights. For more information, visit http://www.rivaliq.com, call +1.206.395.8572, or follow us on Twitter, LinkedIn, and Facebook.