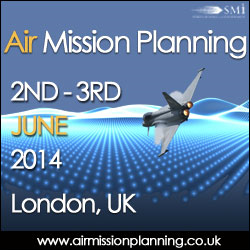 London (PRWEB UK) 14 April 2014
Air Mission Planning 2014 is Europe's leading defence forum for mission planning systems. Covering interoperability, system selection, future planning and cross platform targeting attendees will have the chance to network with key military organisations and learn from real world experiences and case studies from experts from across the globe.
Delegates will have the chance to network with militaries from across the globe including the Ukrainian Air Force, NATO HQ, Saab, Royal Australian Air Force, MoD Abbey Wood UK, Hewlett-Packard, Italian Air Force Command, French Army, Turkish Air Force plus many more.
Discuss the latest developments taking place to help drive forward adoption of modern planning and support solutions vital for an effective air force.
For more information about this event, or to register please visit http://www.airmissionplanning.co.uk
The 2014 speaker line-up includes:

Diego Ruiz Palmer, Special Advisor to the NATO Secretary General, NATO HQ
Lieutenant General Sergei Drozdov, First Deputy Commander, Ukrainian Air Force
Bill Powers, Research Fellow, Warfighting Laboatory
Francesco Agresti, Commander ITA Joint Task Force , Italian Air Force Command
Benjamin George, Resident Pilot, Royal Australian Air Force
Ahmet Tosun, First Lieutenant, Turkish Air Force
Click here to view the full conference agenda
In addition there will be a post conference workshop on Mission Planning for UAS: Current and Future Capabilities.
Due to the nature of UAS command and control there are several critical considerations that need to be understood for UAS mission planning: Extended transit time, extended loiter time, payload(s), airspace integration, multiple missions in a single sortie, control of the platform, lost contact procedures, threats, countermeasures, level of automation, possibility of autonomous operations, loss of aircraft.
This workshop will explore these factors and how they affect both planning and execution across the range of military operations. Workshop delegates will get the opportunity to evaluate how UAV's are being using in combat operations around the world, both in conventional and unconventional warfare.
For further information on the conference and workshop please visit the Air Mission Planning website or contact the team on: +44 (0) 20 7827 6064 or email: wyoule(at)smi-online(dot)co.uk
---------------------ENDS---------------
About SMi Group
The SMi Group is a highly professional, independent and global event-production company that specializes in Business-to-Business Conferences, Workshops and Masterclasses, and online Communities. The SMi Group creates and delivers events in the Defence, Security, Energy, Utilities, Finance and Pharmaceutical industries. For more information, please visit http://www.smi-online.co.uk