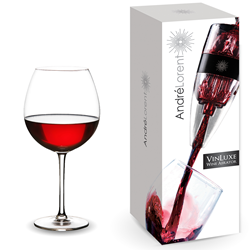 The response and feedback from our customers has been our chief source of satisfaction!
Victor, NY (PRWEB) February 25, 2014
Andre Lorent Lifestyles, the luxury accessory company, knew they had an innovative and timely product, but they had no idea it would take off as quickly as it has. Their VinLuxe Wine Aerator was released to the marketplace just six weeks ago, but has already garnered a great deal of attention – all of it positive.
"We've been so thrilled with the comments and emails we've been getting from our customers," says Andre Lorent's co-founder Ben Cummings. "We knew from extensive test marketing within the wine community that we had a great design and a product that people were really ready for. But, we were really unprepared for how quickly word spread about the VinLuxe Wine Aerator."
To get more information about the Vinluxe Wine Aerator, one should click here.
The VinLuxe Wine Aerator is a solution to the time and inconvenience of traditional decanting. The VinLuxe uses a patented, three-step aeration process to fully open a wine in a matter of seconds; a process that usually takes up to thirty minutes.
Customer response was quick and enthusiastic, with the VinLuxe quickly selling beyond expectations on Amazon. The release of a demonstration video on YouTube last month drove sales up significantly and prompted Amazon to name the VinLuxe Wine Aerator to both its Best Sellers list and its list of "Movers and Shakers."
"The response and feedback from our customers has been our chief source of satisfaction," explains Cummings, "But we're thrilled to hear that Amazon has taken notice of us as well. We owe that to our great customers and the fact that they like to share when they find a truly great product."
The VinLuxe Wine Aerator is sold exclusively through Amazon.com and comes with a lifetime satisfaction guarantee.