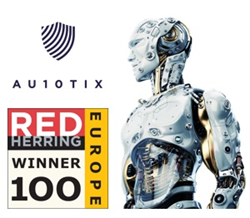 We believe AU10TIX embodies the vision, drive and innovation that define a successful entrepreneurial venture. AU10TIX should be proud of its accomplishment.
NICOSIA, Cyprus (PRWEB) March 11, 2019
Red Herring Top 100 Europe enlists outstanding entrepreneurs and promising companies. It selects the award winners from approximately 1,200 privately financed companies each year in the European Region. Since 1996, Red Herring has kept tabs on these up-and-comers. Red Herring's Top 100 list has become a mark of distinction for identifying promising new companies and entrepreneurs. Red Herring's editors were among the first to recognize that companies such as Alibaba, Facebook, Google, SalesForce.com, Skype, SuperCell, Spotify, Twitter, and YouTube would change the way we live and work. Thousands of the most interesting and innovative companies have graced the Top 100 list over the years.
"In 2019, selecting the top achievers was by no means a small feat," said Alex Vieux, publisher and CEO of Red Herring. "In fact, we had the toughest time in years because so many entrepreneurs had crossed significant milestones so early in the European tech ecosystem. But after much thought, rigorous contemplation and discussion, we narrowed our list down from hundreds of candidates from across Europe to the Top 100 Winners. We believe AU10TIX embodies the vision, drive and innovation that define a successful entrepreneurial venture. AU10TIX should be proud of its accomplishment, as the competition was very strong."
Following AU10TIX's well-deserved win, they are then invited to showcase their company to the US market at the Top 100 North America event in May and later compete internationally for the Top 100 Global in October. Red Herring is dedicated to following AU10TIX's path to further success and innovation.
"We are happy to have earned the acknowledgement of Red Herring to our ushering in of 2nd generation customer onboarding & KYC automation", says Ron Atzmon, Managing Director of AU10TIX: "Players such as Google, PayPal, Visa, Coinbase, Airbnb and many more have chosen this technology apparently for good reasons. We appreciate the extent of depth Red Herring's editorial staff went to evaluate our achievements. We are proud to have excelled at Red Herring's criteria, such as financial performance, technological innovation, management quality, overall business strategy and market penetration. This assessment was complemented by a review of the track records and standings of similar players in the same vertical. Red Herring's acknowledgement will serve as valuable, independent consideration for decision makers who need to streamline their customer experience and make their onboarding and KYC practices robust.
About AU10TIX
AU10TIX Limited, a fully owned subsidiary of ICTS International N.V, deals with the authentication and digitization of identifying documents including Passports, identity cards, driving licenses and other complementary identifying documents. The company specializes in implementing hardware & software based applications used for scanning, identifying, content retrieval, authentication and validation of identifying documents. AU10TIX is a pioneer of all-channel (front-end and online) ID authentication and processing solutions. The company's products drastically reduce identifying document-based fraud, reducing the costs associated with client processing and enabling effective regulatory compliance, while making the sales and support operations speedier and considerably more efficient.
For more information, visit http://www.au10tix.com
About ICTS International N.V.
ICTS specializes in the development and implementation of innovative security concepts and solutions designed to meet the needs of a variety of industries, mainly aviation transportation, border control and sensitive facilities. ICTS International benefits from over two decades of expertise and international operational experience in transportation security, with a particular emphasis on high-risk environments, passenger processing transactions and the integration of security services to provide a comprehensive security solution. It also offers a wide variety of customized training programs, tailored procedures and a wide range of security consulting services. The company has developed and implemented unique technological solutions, based on its comprehensive approach to security, designed to enhance the level of security while accelerating the security check process.
For more information, visit http://www.icts-int.com
This press release contains "forward-looking statements" within the meaning of the Private Securities Litigation Reform Act of 1995, regarding the Company's business strategy and future plans of operations. Forward-looking statements involve known and unknown risks and uncertainties, both general and specific to the matters discussed in this press release. These and other important factors, including those mentioned in various Securities and Exchange Commission filings made periodically by the Company, may cause the Company's actual results and performance to differ materially from the future results and performance expressed in or implied by such forward-looking statements. The forward-looking statements contained in this press release speak only as of the date hereof and the Company expressly disclaims any obligation to provide public updates, revisions or amendments to any forward-looking statements made herein to reflect changes in the Company's expectations or future events.
Contact:
AU10TIX
Ofer Friedman, VP Marketing
Email: ofer.friedman@au10tix.com
Tel.: +357 (22) 007698
ICTS International NV
Alon Raich
Email: mail@ictsinternational.com
Tel.: +31-20-716 3421