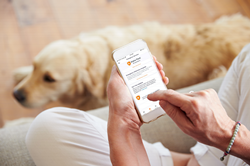 Our free BabelBark app is revolutionizing how pet parents care for their pets, by putting everything they need to know about their pet in one place.
NEWTON, Mass. (PRWEB) May 01, 2019
BabelBark, Inc., the only digital platform to connect everyone who cares for the health and wellness of a pet into one place, announces the launch of Alpha Pack, the premium upgrade to its free BabelBark application. Alpha Pack provides exceptional benefits for pet owners including 24-hour access to a veterinary helpline and a lost and found emergency response team.
Through the BabelBark app, pet parents can connect with their veterinarians and neighborhood businesses; manage medications, diet and activity; store medical records, microchip details and vaccination dates; and have more fun with their pets — all through the same convenient app.
"Our free BabelBark app is revolutionizing how pet parents care for their pets, by putting everything they need to know about their pet in one place, from their pet's medical records and exercise regimen to anything the groomer might have observed at the last appointment and key notes from pet sitters. All of this gives pet parents a true perspective of their pet and can help them be the very best pet parent possible," says Roy Stein, founder and CEO of BabelBark. "But we go further with Alpha Pack to provide access to services 24/7 when pets are in distress or are lost, giving pet owners resources and support when they need it most."
Alpha Pack is available by subscription for $34.95/yr., giving pet owners access to the following valuable services:

Dedicated 24/7 access to a veterinary medical hotline to answer medical questions or concerns through whiskerDocs, the leading provider of telehealth support for pet parents. These conversations are then immediately shared with the pet owner's veterinarian, in case additional follow-up is required.
Dedicated 24/7 call center to report lost or found pets and emergency response team through SmartTag, the leader in pet protection and identification products in North America. This means that if a pet is lost, all local shelters, rescue groups and veterinarian offices are immediately informed — like an "AMBER Alert" for animals. Finally, a pet is given a special collar tag and their microchip ID is automatically added to a permanent, national pet registration database.
Alpha Pack is a paid subscription service available through the BabelBark app. The BabelBark app can be downloaded for free on the app store or on Google Play.
About BabelBark, Inc.
BabelBark is a unique digital platform dedicated to easily connecting families to the many facets of their pet's life. The integrated app and software system helps pet parents better understand their dog or cat to provide them the happiest and healthiest life possible, while also helping pet businesses and veterinarians communicate directly to customers and clients. Ultimately, it means BabelBark can help connect the love for each pet while revolutionizing veterinary care and pet business models, giving pet parents a key tool they want – a digital and personal healthcare team. For more information visit BabelBark, BizBark and BabelVet or email at info(at)babelbark(dot)com.