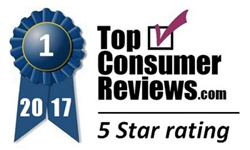 If you're looking for a strong yet environmentally safe way to fight your bed bug problem, Bed Bug Bully should be your first choice.
Overland Park (PRWEB) August 31, 2017
TopConsumerReviews.com recently gave a best-in-class 5-star rating to Bed Bug Bully, a leader among products for Bed Bugs available for purchase online.
Bed bug infestations have been in the news recently, particularly with respect to hotels. Unfortunately, some travelers find that the problem is transferred to their own homes as these pests hitch a ride on luggage or clothing. Bed bugs are notoriously difficult to exterminate. People suffer with itchy rashes from their bite, see the bugs' feces in their beds and carpeting, and sometimes even have to move out of their house just to escape them. While professional exterminators can fight bed bugs, the chemicals they use are often harsh and still may not take care of the problem in a single visit. For this reason, many people have turned to products that they can apply on their own, so that they can control not only the types of chemicals used in their homes but also the amount applied.
"If you're looking for a strong yet environmentally safe way to fight your bed bug problem, Bed Bug Bully should be your first choice," according to Brian Dolezal of TopConsumerReviews.com, LLC. "Used by many hospitals and hotels, Bed Bug Bully is 100% organic, non-toxic, and contains zero pesticides - all while killing bed bugs in just a matter of seconds. In fact, customers can even sleep in their bed immediately after applying the product. Also, because Bed Bug Bully is ten times more concentrated than some of their competitors' products, users can save time and money. Best of all, Bed Bug Bully is covered by a 100% risk-free guarantee: customers can return any unused product within 30 days of purchase for a full refund, no questions asked. In 2017, Bed Bug Bully easily earns our highest ranking in the Bed Bugs category."
To find out more about Bed Bug Bully and other products for getting rid of Bed Bugs, including reviews and comparison rankings, please visit the Bed Bugs category of TopConsumerReviews.com at http://www.topconsumerreviews.com/bed-bugs/.
About Bed Bug Bully
Bed Bug Bully is part of the My Cleaning Products brand, created by CEO Markus Skupeika. As he traveled to non-commercialized remote locations around the globe, he set out to discover natural formulas and ingredients with healing and wellness properties from ancient cultures. My Cleaning Products was designed to share those formulas and ingredients in a new form of green, safe solutions for a variety of problems ranging from mold to rust and more.
About TopConsumerReviews.com
TopConsumerReviews.com, LLC is a leading provider of independent reviews and rankings of hundreds of consumer products and services. From Bed Bugs to Lice and Home Security, TopConsumerReviews.com delivers in-depth product evaluations in order to make purchasing decisions easier.