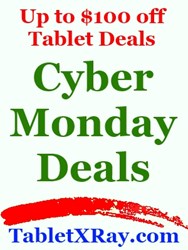 Over-heating buggy tablets with non-responsive touch-screens should be avoided regardless of steep holiday discounts.
Chicago, IL (PRWEB) December 02, 2013
Those who missed Black Friday tablet deals need not worry as steep discounts on a variety of tablets have been announced for Monday, December 2nd, the biggest U.S. online-shopping day for 2013. With over a third of the American adults now owning a tablet, iPad and Kindle Fire HD Cyber Monday deals are some of the most anticipated deals this 2013 holiday season. The good news is that there are plenty of tablets on sale, the bad news is that some of them cannot be recommended because certain generations of even the best tablets are known to have certain anomalies.
Click here for the TOP 5 Recommended Kindle Fire HDX and iPad Cyber Week Deals.
http://TabletXRay.com/Holiday-Deals/ shows not only the tablet deals to grab, but also the ones to avoid. Some tablets are known to have various technical problems such as over-heating when using and charging, taking as much as 6 hours to completely charge, not charging at all after operating system upgrades, touchscreen malfunctions, and even problems in identifying and connecting to Wi-Fi networks. These problems have been reported with very popular brands of tablets as well as some less well-known brands. However attractive the Cyber week price-cut may be, tablets with such technical issues must be avoided by all means.
Based on the nature of the discount, there are mainly three kinds of tablet deals this Monday. The first is where the price is slashed by a certain amount. An example is a particular Apple iPad offered for $299. With the second type, the tablet is offered at the regular retail price, however with a free gift card that can be used towards other purchases from the same store. The third type is where there is a discount on the price as well as a free gift card offered. A typical example is the Black Friday iPad Deal that was offered by Target where they reduced the price of the iPad Air from $499 to $479 and then gave a $100 Target gift card free with the iPad Air purchase.
Cyber week tablet deals are very similar to the tablets that were offered on Friday, November 29th. The Kindle Fire HDX 7" and non-HD versions, 5th generation iPad Air, 4th generation iPad with Retina display, non-HD iPad 2, iPad Mini, Samsung Galaxy Note 10.1", Samsung Galaxy Tab 3, Google Nexus 7, ASUS, and Lenovo IdeaTab are some of the tablets that will be on sale this Monday. As of Sunday evening, the latest, 3rd generation 7 inch Amazon Kindle Fire tablets received an attractive holiday special.
In addition to reviewing the best Cyber Monday holiday Kindle Fire HD deals, they have also reviewed and compared the 8.9 inch and 7 inch versions of the Amazon Kindle Fire HDX with the iPads and Google Nexus tablets. Their detailed and unique Kindle Fire HDX reviews are highly recommended reads for Cyber week deal hunters as well as anybody planning on purchasing an Android or iOS tablet in 2013/2014.