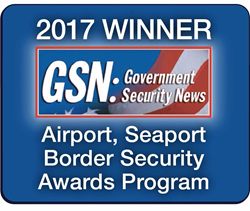 We are honored to have been chosen as a multiple category winner, Howard Ryan Founder Desktop Alert Inc.
Chatham, New Jersey (PRWEB) August 15, 2017
Desktop Alert, Inc., the patented system owner of less than one minute network-centric emergency mass notification systems (EMNS) to military, government, healthcare, higher education and industrial organizations, today announced that its industry leading mass notification communication platform, Desktop Alert 5.x has garnered three 1st place awards from Government Security News' (GSN) 2017 Airport, Seaport, Border Security Awards.
Panel 2 of the Summit was moderated by Chuck Brooks, President for Government Relations and Marketing at Sutherland Global Services, who ran the most interactive panel of the day. With all guests being members of DC's IT Tech elite and the subject of the panel being future threats and new defense technologies, the ballroom was buzzing with questions and discourse. It's safe to say that this panel ran much like a think-tank, comprised of DC's greatest tech minds and fueled by the spirit of collaborative learning.
Mr. Brooks has also been cited by Linkedin as one of the top 5 out of 500 million members to follow for emerging technology issues. Linkedin will also be featuring Chuck in their upcoming blogs as a cyber security SME and advisor.
Desktop Alert was named Best Mass Notification System and also a co-winner for Most Notable Implementation of new Technology – Solano Country Implementation of Desktop Alert and Safekey. Desktop Alert subsidiary Metis Secure Solutions also won for Best Alert Beacon System.
"We are honored to have been chosen as a multiple category winner. Our companies numerous years of products and services to the U.S. Army National Guard, U.S. Air National Guard and Northern Command proved pivotal in the award selection process," said Howard Ryan, Founder Desktop Alert Inc.
About Desktop Alert: http://www.desktopalert.net
Worldwide U.S. Military organizations such as U.S. Northern Command, The United States National Guard, The United States Air Force Academy, The United States Military Academy at West Point, Multi-National Forces in IRAQ and Afghanistan, The U.S. Air Force, The U.S. Army now utilize the Desktop Alert mass notification platform daily for their organizations emergency communication requirements. Desktop Alert can contact thousands of users with desktop alerts and require receipt confirmation of the message. Those not verified can then be listed on a report and/or sent as a "Target Package" to be automatically contacted by other means such as email, SMS, phone calls and other devices.