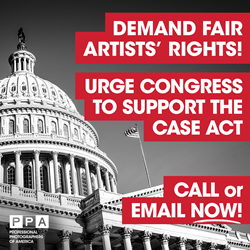 Passing a small claims bill is our number one priority on the Hill and would transform the copyright landscape for every professional photographer across America.
ATLANTA (PRWEB) May 01, 2019
It was a big day for copyright advocacy in Washington D.C. as proposed reform long sought by PPA was addressed in the introduction of the Copyright Alternative in Small Claims Enforcement Act (CASE Act). The legislation—introduced today by Congressmen Jeffries, Collins, Nadler, Johnson, Roby, Chu, Cline, Lieu, and Fitzpatrick as well as Senators Kennedy, Tillis, Durbin and Hirono, creates a small-claims process for creators whose work is infringed. The CASE Act represents a rare bipartisan, bicameral effort on Capitol Hill.
Known for years by activists and supporters as the "small claims bill", the CASE Act is backed by Professional Photographers of America (PPA) and a coalition of visual arts groups including the American Society of Media Photographers (ASMP), the Digital Media and Licensing Association (DMLA), American Photographic Artists (APA), The American Society for Collective Rights Licensing (ASCRL), the Graphic Artists Guild (GAG), the National Press Photographers Association (NPPA), and the North American Nature Photography Association. The CASE Act would make it possible for small-business image creators (i.e. professional photographers) to take advantage of the U.S. copyright system for the first time since its inception. This small claims bill would provide creators with a remedy to protect their works, and make sure that they are paid for what they produce. The bill establishes a tribunal operating under the U.S. Copyright Office, who would oversee the new small-claims process for infringement remedies.
In the U.S., copyright claims have traditionally only been allowed to be filed in person in federal court, which can cost hundreds of thousands of dollars to bring to fruition. "Small" creators report that most infringements are valued at $3,000 or less, hardly worth filing in federal court. Surveys that show many, or most, small creators earn just $35,000 a year on average.
"PPA has fought for over a decade to address how our current one-size-fits-all registration system simply doesn't work for professional photographers," says PPA President Audrey Wancket. "It's our job as the nation's leading nonprofit dedicated to professional photographers to know and understand the issues important to our members. The money they lose from infringements each year is a real concern. Photographers and other visual artists have always been treated inequitably under the current copyright system. Passing a small claims bill is our number one priority on The Hill and would transform the copyright landscape for every professional photographer across America."
For more than ten years, Professional Photographers of America (PPA) has been working on Capitol Hill, explaining the critical need for a small-claims enforcement option for mom-and-pop creators. The CASE Act is largely consistent with the legislative recommendations in the "Copyright Small Claims" report released in late 2013 by the U.S. Copyright Office, which deserves much credit for its groundbreaking effort in this area. PPA and the visual arts coalition is grateful for the significant work already undertaken by Congress and the Copyright Office in drafting this bill and looks forward to continuing to work with all parties to properly and substantively help shield works from copyright infringement and allow for the earning of a fair living.
PPA will continue to work with Congress and actively engage and mobilize its 30,000+ photographer-members via their Copyright Grassroots Action Team. Tens of thousands of concerned constituents have sent letters, called their senators and representatives, and made their voices heard on Capitol Hill to make The CASE Act a reality. PPA and its members and partners will continue to lend their support to this legislation throughout 2019.
About PPA:
Professional Photographers of America (PPA) is the world's largest and oldest association representing professional photographers. Founded in 1868, PPA exists to help its members prosper artistically and financially by providing artistic and entrepreneurial skills through its industry-leading education system, unmatched benefits, and award-winning magazine. PPA was founded over a predatory patent application and continues its work on Capitol Hill to defend photographers' rights today.