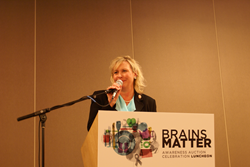 Seattle, WA (PRWEB) May 09, 2014
For a second time this year, Dellann Elliott Mydland, CEO & President of the Pacific Northwest-based Chris Elliott Fund, is traveling to the opposite coast to advocate on behalf of brain tumor patients across the United States. The purpose of this trip is to ensure access for all cancer patients to emerging therapies and medical devices in the War on Cancer. Many emerging therapies and medical device treatment options represent a new approach to treating solid tumors; they frequently fall outside standard reimbursement guidelines, effectively excluding certain groups of patients from access despite FDA approval.
"For cancers where there are few effective treatment options available, it is critical that all patients have access to any FDA-approved therapy or device which could potential extend their life," says Elliott Mydland. "It is especially important for brain tumor patients where survival is typically measured in months, not years. Although our focus is brain tumor patients, we see these therapies as potentially benefitting patients diagnosed with other cancers, particularly those whose prior treatments have failed. It is just so critical that we set the right precedent."
This advocacy work comes alongside other activities the Chris Elliott Fund is doing to raise awareness this May for National Brain Tumor Awareness Month. Their other work includes:

The 2nd Annual Brains Matter Evening of Awareness, Connecting & Learning for Seattle Area Women kicked off the month on April 25th. This event was co-hosted with glassybaby at their Seattle studio where their unique tea light holders are hand blown. Women make 80% of the calls into the Chris Elliott Fund's Patient Support Center, typically seeking help for a family member, often their husband and family bread winner.
The 2nd Annual Divas with a Cause Benefit Concert was held in Atlanta on May 2. The Chris Elliott Fund was one of 7 charities honored in this inspiring, fun and memorable evening.
The Patient and Caregiver Brain Tumor Support Symposium, an afternoon of learning, sharing, and discussion on May 9th. This event is for New Jersey brain tumor patients, families, and loved ones is being co-hosted by the John Theurer Cancer Center in Hackensack, the Brain and Spine Institute (BSI) and the Chris Elliott Fund.
#Tunein2GBM is an awareness building and educational social media campaign for Glioblastoma brain cancer. The campaign is sponsored by Novocure and benefits the Chris Elliott Fund, Livestrong, the Musella Foundation for Brain Tumor Research & Information, and Cancer Support Centers. Glioblastoma is the most common and deadly form of brain cancer with 20,000 Americans diagnosed annually.
"Be a Friend" is CEF's own unique radio campaign urging listeners to "Be a Friend" and help anyone they know stricken with brain cancer to immediately get the help and support they need; it involves a PSA playing on radio stations across the country over the next several months.
CEF's 4th Annual Brains Matter Awareness Auction & Celebration Luncheon will be held on May 29th in the Seattle Metro area. This event is unique in that it is the only major event in the Pacific Northwest specifically directed towards National Brain Tumor Awareness Month, offering hope and inspiration to brain cancer and brain tumor patients.
About The Chris Elliott Fund
The Chris Elliott Fund (CEF) is a brain cancer and brain tumor patient advocacy organization and national 501(c)(3) non-profit with offices in Redmond, Washington. Established in 2002, the Chris Elliott Fund is furiously committed to finding a cure for brain cancer and to bringing HOPE to the lives of patients and their families. Providing unique, one-on-one, personalized support to brain cancer patients; providing immediate access to advanced treatment options, specialists and comprehensive support programs; provide support and guidance concerning the day to day needs of patients and their caregivers; and educate the general public on matters related to brain tumors and brain cancer and advocate on issues of national public health policies impacting the lives and welfare of brain cancer and brain tumor patients. The organization and its advocates directly serve 1300+ patients and caregivers every month free of charge. CEF is a member of the Society for Neuro-oncologists, American Association of Neuroscience Nurses, American Cancer Association for Cancer Research, Washington Biosciences Association, among others. If we can help, please contact us at WeCare(at)EndBrainCancer(dot)com.