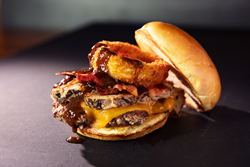 WESLEY CHAPEL, Fla. (PRWEB) December 03, 2018
After being voted Best Burger in Tampa for the past three years, founder, creator and local restaurateur, Jake Hickton says "It's time for change." "The burger segment is the most competitive in the restaurant business, and Burger Monger has always maintained an attitude that the best never rests," added Hickton.
The restaurant has built a loyal following through its commitment to U.S. raised 100% Akaushi (Kobe) beef, higher quality ingredients and locally sourced fresh baked challah buns.
"These core commitments are not changing," assures Hickton. "What we're doing is updating the look and feel of our restaurant to align with what guests are seeking for today. We're surrounding our award-winning burgers with more high-quality options for our guests."
Under the new moniker of "Chophouse Burgers and Barstool Shakes," the restaurant has added 10 new, chef inspired recipe burgers. "Were building from our 30 plus topping options to craft some really amazing burgers," added Hickton.
Choices include the "Ultimate Chophouse Burger" which piles pulled pork, hickory smoked bacon, real cheddar cheese, a thick cut onion ring and A-1 Sauce on a fresh baked challah bun. As a salute to Florida's Latin culture, the restaurant also offers the Cuban Burger, topped with sliced pork, ham, Swiss cheese and pickles, traditional mustard and mayo. This is expected to be an instant hit in the Tampa market, already known around the world as the home of the Cuban sandwich.
Burger Monger's expanded menu also features the addition of a hand dipped, fresh breaded chicken sandwich, new recipes for their 100% Kobe Hot Dogs, and popular, delicious sides.
Burger Monger's new natural cut fry along with the new chophouse style onion rings and sweet potato fries will continue to be cooked in beef tallow, "the way it ought to be done," says Hickton.
The restaurant also makes room for dessert and premium drinks. There's an expanded line of 10 hand-spun premium custard milkshakes, including new creations like the Orange Dreamsicle shake, Andes Mint Chocolate Chip shake and a Florida Key Lime pie shake. Plus they are introducing, a new line of "un-spun" shakes. Delights such as the Twinkie shortcake and Snickers surprise are best enjoyed with a spoon. Capturing the "nitro" coffee trend, the concept is introducing it's own Cuban blended cold brew coffee, and has created a first ever "nitro lemonade". Customers will also find STUBBORN All Natural sodas and organic, fresh brewed teas.
The changes have also impacted menu pricing—for the better. Bundling options have been added to allow guests to get the highest quality at a more affordable cost. Plus the new Monger Maniacs Reward Program provides additional savings for regular guests.
"We think our guests will be excited by the ambience of the restaurant, savory food, and friendly hospitality," Hickton concludes.
The Wesley Chapel restaurant is the first to get the makeover. Hickton has partnered with restaurant veteran Randy Gier for Burger Monger's re-invention and expansion of the brand. The plan is to remodel all five restaurants by the end of 2019. From there, regional expansion of new restaurants will begin.
Burger Monger currently has five locations in the Tampa Bay area, including Wesley Chapel, Carrollwood, Clearwater, South Tampa and St. Petersburg.
For more information about Burger Monger, please visit https://www.burgermonger.com or follow us on Twitter @BurgerMongerTPA, Instagram @burgermonger and Facebook https://www.facebook.com/burgermonger.