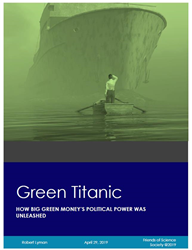 The environmental organizations opposing development have enormous and probably permanent funding advantages, far greater than any political party could match. The long-term economic effects .. could be especially damaging for the resource sector
CALGARY, Alberta (PRWEB) May 01, 2019
A massive "Green Titanic" of environmental charity political activity is bearing down on unsuspecting Canadian taxpayers, says Ottawa energy policy consultant, Robert Lyman, in a new report issued by Friends of Science Society today.
"Green Titanic: How Big Green Money's Political Power Was Unleashed" describes how recent changes in the Income Tax Act and regulations governing charities and a recent court decision have freed activist environmental organizations with charity status from previous constraints on their ability to conduct and fund political activities.
In "Green Titanic," Lyman reports that federal and provincial governments in Canada now provide $170 billion per year in grants and contributions to registered charities.
Charities then raise an additional $80 billion per year based on private contributions, some of which are stimulated by their registered charity status; the cost to the federal treasury alone of this is $5 billion per year; the cost to provincial government treasuries is unknown.
Lyman points out the consequences for jobs and the economy, writing: "The impact on the alignment of forces supporting and opposing resource development in Canada could be profound. The environmental organizations opposing development have enormous and probably permanent funding advantages, far greater than any political party could match. The long-term economic effects of this funding advantage could be especially damaging for provinces and regions whose prosperity depends on resource-based development."
The report goes on to say that "As a result of legislative changes and a court decision, registered charity status now gives an organization, including activist environmental organizations, the freedom to spend up to 100% of its revenues on political activities, so long as these are consistent with its "charity" objectives."
In the report, Lyman expresses the concern that "these developments open the door wide to potential abuses of political spending by radical ENGOs and other organizations that want to get heavily into political funding and can afford to do so."
Previous reports in this series are "Dark Green Money: A Glimpse Inside the Big Green Funding Machine" issued Jan. 10, 2019 which examined foreign and government funding to ENGO charities and "Big Green Money vs Conventional Energy Advocates: Foreign-funding for "No" vs "Pro" Conventional Energy in Canada" issued Feb. 12, 2019.
A blog post by Robert Lyman of Feb. 16, 2019, entitled "Money Matters," outlines the astounding financial power of tax-subsidized charities in Canada versus political parties.
Friends of Science Society also issued a rebuttal to enviro-charity West Coast Environmental Law (WCEL) on Feb. 4, 2019, entitled "Manufacturing a Climate Crisis," documenting the role of WCEL in establishing a West Coast tanker ban, with all its detrimental effects on the Canadian economy.
Some Canadian environmental charities have focused on climate change and the alleged effect of greenhouse gas emissions on global warming as a reason to block pipelines and overturn the existing National Energy Board process. Dr. Willie Soon presented clear evidence in his April 10, 2019 presentation at Friends of Science "Polar Bears and Solar Flares" event in Calgary, that the sun is the main driver of climate change in Canada and the world. Event page: https://friendsofscience.org/index.php?id=2446
About
Friends of Science Society is an independent group of earth, atmospheric and solar scientists, engineers, and citizens who are celebrating its 16th year of offering climate science insights. After a thorough review of a broad spectrum of literature on climate change, Friends of Science Society has concluded that the sun is the main driver of climate change, not carbon dioxide (CO2).
Friends of Science Society
P.O. Box 23167, Mission P.O.
Calgary, Alberta
Canada T2S 3B1
Toll-free Telephone: 1-888-789-9597
Web: friendsofscience.org
E-mail: contact(at)friendsofscience(dot)org
Web: climatechange101.ca