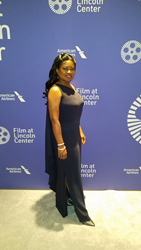 The passionate love of film was truly evident in the work on screen.
NEW YORK (PRWEB) May 01, 2019
On April 29, Film Producer Taylor Re Lynn was spotted celebrating Film at Lincoln Center's 50th Birthday Anniversary Gala in Alice Tully Hall. Among the attendees were celebrities Darren Aronofsky, Pedro Almodóvar, Paul Dano, Jake Gyllenhaal, Zoe Kazan, Michael Moore, Dee Rees, Martin Scorsese, Tilda Swinton, and John Waters. The 50th Gala was one the most important fundraising events at the Lincoln Film Center and all proceeds benefited the organization to support the art and craft of cinema.
Taylor Lynn was on hand to network with industry heavyweights as they paid tribute to Film at Lincoln Center, which has been a "sanctuary of cinema" for the last half a century. The focus this year was to honor the institution's history rather than a specific talent. Taylor witnessed speeches from movie buffs across multiple generations, from Paul Dano to John Waters.
"The passionate love of film was truly evident in the work on screen tonight," said Lynn. Attendees were treated to special archival footage, photographs, and film clips that reflect upon the film center's role in New York City film culture.
About Taylor Re Lynn
Film producer Taylor Re Lynn's productions include Tribeca Film Festival 2018 opening night film 'Love Gilda' (documentary on Saturday Night Live comedian Gilda Radner and premiered on CNN January 2019); Little Wing (Toronto Film Festival 2016); and Golden Globe nominated film 'The Fencer'. She is also known for 'The Shepherd' is a historical drama, dedicated to forgotten heroes who rescued Jews during WWII. 'The Shepherd' carries an important social message that is very relevant to present day.
For more information, visit: http://www.TaylorReLynn.com and https://www.imdb.com/name/nm7524285/.
About Lincoln Film Center
For 50 years, the Film Society of Lincoln Center has been dedicated to supporting the art and elevating the craft of cinema and enriching film culture. It has exemplified a commitment to adventurous, stimulating programming and to helping foster the next generation of film artists, writers, and industry minds, through the curation of series, retrospectives, new releases, and festivals, including the prestigious New York Film Festival; the publication of Film Comment; the presentation of podcasts, talks, and special events; and the implementation of Artist Initiatives and Film in Education curriculum and screenings. For more information, visit: https://www.filmlinc.org/50th-anniversary/.