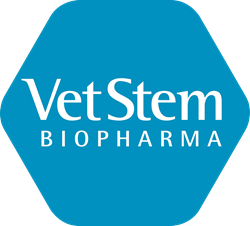 POWAY, Calif. (PRWEB) August 28, 2018
CEO and founder of VetStem Biopharma, Dr. Robert Harman, will be presenting the results of a safety study performed on an allogeneic (donor derived) stem cell product for osteoarthritis in canines at the 2018 North American Veterinary Regenerative Medicine Association (NAVRMA) conference in September. He is also the organizer of Breakout Session 4: Practitioner Primer on FDA Product Development on Saturday, September 8, 2018 from 3:30-5:00 PM. The conference is being held in Sacramento, California September 6-9, 2018. VetStem is a silver sponsor of the conference.
Dr. Harman will be delivering his presentation on Sunday, September 9, 2018. His talk will focus on the design and results of the formal FDA-submission GLP safety study that was performed by an independent contract laboratory in 2017 to evaluate the safety of an allogeneic stem cell product for osteoarthritis in dogs. The study followed 32 subjects with 16 in the treatment group and 16 in the control group. The study concluded that there were no substantial safety concerns with the use of the allogeneic stem cell product, even when administered at five times the maximum proposed label dose.
This safety study is a crucial step in the development of VetStem's off-the-shelf donor derived stem cell product for osteoarthritis in canines. VetStem currently has three Investigational New Animal Drug applications filed with the FDA and has plans to develop products for use in feline and equine disease therapy in addition to the product for canine osteoarthritis. As the first company to provide adipose derived stem cell services to veterinarians across the United States and Canada, VetStem Biopharma is considered a leader in the industry of regenerative veterinary medicine. Over 14,000 animals have been treated utilizing the company's autologous stem cell service.
Dr. Harman has been a trailblazer in the field of regenerative medicine for over a decade and presents at both human and animal medical conferences around the world. He most recently spoke in Costa Rica at the second annual International Regenerative Medicine Conference. He applies his biotechnology and veterinary experience in the clinical application of stem cell therapy for various types of injuries, illnesses, and other healing-promoting applications. Dr. Harman has also authored 14 peer-reviewed articles and book chapters.
About VetStem Biopharma, Inc.
VetStem Biopharma is a veterinarian-lead Company that was formed in 2002 to bring regenerative medicine to the profession. This privately held biopharmaceutical enterprise, based near San Diego, California, currently offers veterinarians an autologous stem cell processing service (from patients' own fat tissue) among other regenerative modalities. With a unique expertise acquired over the past 16 years and 14,000 patients treated by veterinarians for joint, tendon or ligament issues, VetStem has made regenerative medicine applications a therapeutic reality. The VetStem team is focused on developing new clinically practical and affordable veterinary solutions that leverage the natural restorative abilities present in all living creatures. In addition to its own portfolio of patents, VetStem holds exclusive global veterinary licenses to a portfolio of over 70 issued patents in the field of regenerative medicine.