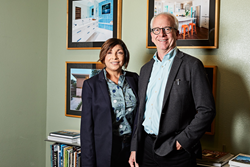 AUSTIN, Texas (PRWEB) August 09, 2018
Austin-based architecture and remodeling firm CG&S Design-Build announced today that its former president Billy Guerrero has retired, selling his stake to his sister, CG&S general manager Dolores Guerrero-Davis. Davis will take over Billy's position as CG&S president, keeping ownership of the firm within the Guerrero family, whose parents Clarence and Stella Guerrero founded in 1957.
Billy Guerrero, who started work with his parents' construction company as a young man 40 years ago, worked as lead estimator at CG&S for most of his career before serving as the firm's president for 20 years. Guerrero-Davis joined the firm in 1994 as an office assistant before replacing her brother John as general manager in 1998. Together with Guerrero-Davis' husband, co-owner and design manager Stewart Davis, Billy and Dolores guided CG&S into the 21st century with an ever-expanding push toward thoughtful architecture and design, reliable craftsmanship and innovative service.
"I'm thrilled to be making this transition with Stewart and Billy," said Guerrero-Davis. "This is something we've been working toward as a family and company for a long time. We celebrated 60 years as a company last year, and we are excited to continue that momentum as we enter into this next chapter. CG&S is going to miss Billy, but this an exciting time for all of us."
With Billy's retirement and subsequent sale of his share to Guerrero-Davis, CG&S remains a family-owned business and one of the oldest construction firms in Austin. As president, Guerrero-Davis plans to continue leading CG&S Design-Build on the path her parents and brother had followed in the past, while looking forward to expanding her firm's services beyond architecture and building on her family's legacy of involvement and advocacy in the Austin community.
One exciting expansion in 2018 has been the hiring and addition of an in-house interior design assistant. Over time, CG&S and its design-build format have favored holistic projects, moving from simple one-room renovations to original, new-build designs and dramatic whole-home renovations. In the process, CG&S architects have offered interior design services for a number of clients, but the hiring of an interior design-specific position signals a formal expansion into the interior design space.
"My parents worked hard so they could pass CG&S on to my siblings and me," said Guerrero-Davis. "That's the legacy I'm preserving now – the idea that building something your children, your grandchildren and your great-grandchildren can be proud of makes the hard work worth it. We take that attitude to work every day."
###
About CG&S Design-Build
CG&S Design-Build is a high-end Austin residential renovation firm specializing in full-service design and construction services. Started as a family business over 60 years ago, CG&S was founded on a culture of loyalty and dedication to hard work – delivering the highest quality product to their clients. Since then, CG&S has grown into a locally and nationally recognized design-build company with hundreds of projects under its belt, but they haven't forgotten their homegrown roots. CG&S strives for perfection with every client, no matter the size or scope of the project. At their core, CG&S is a group of individuals who work collaboratively toward one sole purpose: making great homes.
Links:
http://www.cgsdb.com
http://www.facebook.com/cgsdesignbuild
http://www.twitter.com/CGSDesignBuild
https://www.instagram.com/cgsdesignbuild/