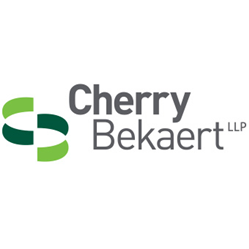 RICHMOND, Va. (PRWEB) August 03, 2020
Cherry Bekaert LLP ("the Firm") is pleased to announce the acquisition of CoNexus CPA Group, a certified public accounting firm based in Atlanta, GA. Since 2015, the CoNexus team has delivered a comprehensive suite of tax, assurance and advisory services to families and closely held businesses nationwide to help them achieve their personal and business goals.
"At Cherry Bekaert, we are making strategic choices to expand in key growth markets," explained Michelle L. Thompson, Chief Executive Officer and Firm Managing Partner. "The CoNexus CPA Group brings a strong background in accounting and tax disciplines along with a track record of success in the technology and real estate industries as well as in private wealth, which are all areas of specialization for Cherry Bekaert. We are pleased to welcome the CoNexus team to our Firm and we look forward to strengthening our presence in the Greater Atlanta area. We will deliver deeper industry expertise to help solve our clients' most pressing challenges."
Cherry Bekaert entered the Greater Atlanta market in 2000 and, with the addition of the CoNexus team, the Firm's practice now includes 14 Partners, nearly 100 CPAs and 140 associates and ranks among the top ten largest CPA and consulting firms in the area.
"We are pleased to join the Cherry Bekaert team," commented Jeff Horsley, former CoNexus Partner. "Together, we'll use our industry expertise and advanced tools and systems to create exceptional value for clients in the most efficient and effective ways possible."
Jeff and other former CoNexus Partners Ron Farmer, Kim Roddy, Kathryn Dillon and David Mobley will all be joining Cherry Bekaert. The CoNexus professional staff will relocate to and operate from Cherry Bekaert's 1075 Peachtree Street NE location in midtown Atlanta.
About Cherry Bekaert
Ranked among the largest audit, tax and advisory firms in the U.S., Cherry Bekaert LLP offers specialized solutions in the areas of cybersecurity, specialty tax, transaction advisory, risk advisory, digital & technology solutions, benefits consulting, fraud & forensics, government contract consulting, valuation and wealth management. With clients in all 50 states and internationally, we have specialists in the sectors of technology, healthcare and life sciences, industrial manufacturing, private equity, real estate and construction, professional services, hospitality and retail, government and not-for-profit. We exercise a deliberate curiosity to know our clients' industries and work collaboratively as one team to guide them forward.
Cherry Bekaert LLP is a founding, independent member of Baker Tilly International, a top-ten global accountancy and business advisory network. Visit us at cbh.com and follow us on LinkedIn, Facebook or Twitter.