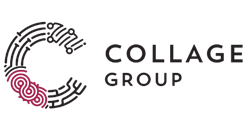 BETHESDA, Md. (PRWEB) December 05, 2018
Collage Group will conclude its 2018 executive roundtable series on December 12th in New York City. Co-hosted by Univision Communications Inc., the leading multimedia company serving Hispanic America, the day-long session will bring together top brands to discuss cutting-edge approaches to multicultural and youth marketing. The event will host over 50 executives from companies including General Mills, Hulu, Domino's Pizza, Procter & Gamble, Unilever, and more.
The day will start with one of Collage Group's latest initiatives, America in 2018: Emotions, Behaviors, and Intersections of Identity at Play, which will unveil the most current findings around who America is today. College Group has uncovered four underlying emotional states that characterize the major cultural and generational segments defining the Total Market. Collage Group will also present proprietary insights into advertising effectiveness using their recently launched AdRate product which combines facial tracking data, sentiment analysis, and machine learning to decipher what works and what does not when engaging across ethnicities and generations in this diverse and polarized country.
"Univision is excited to be co-hosting its first Collage Group roundtable. Hispanics are one of the largest and most influential consumer segments in America, and their influence will only continue to increase in the marketplace. Generating these positive discussions about today's rapidly evolving landscape and the role multicultural consumers play as part of this transformation is vital to staying relevant and propelling growth. We are proud to be a trusted source of news and information for the Hispanic community and look forward to presenting our research."– Roberto Ruiz, EVP Insights, Research & Analytics, Univision
The session will also include a presentation led by Luis Miguel Messianu, Chief Executive Officer of Alma, covering how authentic creativity builds trust. He will also set the record straight on the use of Total Market.
"Understanding Hispanic and Multicultural consumers is pivotal to better engaging and activating with the totality of American consumers, given their important role in the context of overall growth. We could not be more excited to co-host this event with Univision given its prominent access and connection to Hispanic America." – David Wellisch, CEO and Co-founder, Collage Group
About Collage Group
Founded in 2009, the company focuses on empowering organizations to better serve and engage the fastest growing and most influential consumers through insights, market intelligence, and strategy. They currently support over 200 leading consumer brands through proprietary syndicated research, actionable category level insights, market intelligence tools, and best practices. The product portfolio includes insights and strategy networks–Latinum, focusing on multicultural consumers, and genYZ, focusing on millennials and gen-Z'ers. Collage also offers a full suite of custom research and consulting services. More information can be found at collagegroup.com.
About Univision Communications Inc.
Univision is the leading media company serving Hispanic America. The company's broadcast assets include Univision Network, one of the top television networks in the U.S. regardless of language and the most-watched Spanish-language broadcast network in the country; UniMás, a leading Spanish-language broadcast television network; and Univision Local Media, which owns and/or operates 64 television stations and 58 radio stations in major U.S. Hispanic markets and Puerto Rico. Univision Cable Networks consists of Univision Deportes Network (UDN), the most-watched Spanish-language sports cable network in the U.S.; Galavisión, the most-watched U.S. Spanish-language entertainment cable network; Univision tlnovelas, a 24-hour Spanish-language cable network dedicated to telenovelas; ForoTV, a 24-hour Spanish-language cable network dedicated to international news; and an additional suite of cable offerings – De Película, De Película Clásico, Bandamax, Ritmoson and Telehit. Univision's cable portfolio also includes FUSION TV, an English-language news and lifestyle cable network; an investment in El Rey Network, a general entertainment English-language cable network. The company also owns and operates several premier digital destinations including Univision Now, a direct-to-consumer, on-demand and live streaming subscription service; Univision.com, the most-visited Spanish-language website among U.S. Hispanics; and Uforia, a digital music application featuring multimedia music content. The company's assets also include the digital brands associated with the Gizmodo Media Group and The Onion. For more information, please visit corporate.univision.com.