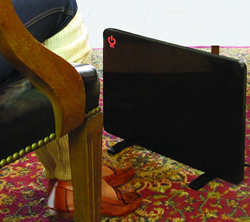 (PRWEB) December 07, 2018
Home Garden and Homestead is the online guide to homes, gardens and homesteads–and all of the products that make today's modern lifestyle possible.
The media guide to smart modern living, Home Garden and Homestead, recently released a blog post featuring the Cozy Legs® personal space heater by Cozy Products®. The post highlights great gifts to give this holiday season, from garden tools to home improvement.
The Cozy Legs® by Cozy Products® requires an outlet and electricity, but it uses just 200 watts – only 13% of the electricity used by a standard 1,500 watt space heater. It is an ETL Certified Zero-Clearance item, which means it will not pose as a fire hazard and can be against walls or other structures without worry.
Bird-X, Inc., the parent company of Cozy Products®, has spent over 50 years protecting public areas from over 60 bird-spread transmissible diseases. The leading international brand of humane bird control solutions, this Chicago-based company manufactures a complete line of unique bird control products, protecting the health of humans, wildlife, and the environment by deterring birds from unwanted areas without harming them.
Cozy Products® offers energy-efficient, low-watt personal heaters that conserve energy, prevent circuit overloads, and reduce the risk of fire. Founded decades ago and based in Chicago, USA, Cozy Products® strives for a superior level of quality.
For information on any Cozy Products® heaters or Bird-X humane pest control products, please call customer service at (800) 662-5021.