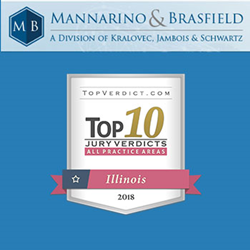 CHICAGO (PRWEB) November 05, 2019
Attorney Craig Mannarino and Attorney Amanda Brasfield obtained a verdict of $19,217,602 in the case of The Estate of Alicia Padilla v. Porto, et al., Case No. 13 L 6693, which was pending in Cook County.
This case involved medical malpractice resulting in the wrongful death of a baby due to injuries experienced during childbirth. Samantha Padilla, 39 weeks pregnant, went to the hospital in labor. Several hours into labor, the baby, Alicia Padilla, began to show signs of distress, including the presence of meconium (or feces) in the amniotic fluid, which can be very dangerous to the baby.
Craig Mannarino and Amanda Brasfield successfully argued that the doctor and nurse improperly administered Pitocin, a drug meant to induce or speed up labor, rather than performing a C-Section, which subjected baby Alicia to hours of unnecessary distress and resulted in her breathing in dangerous meconium present in the amniotic fluid. Baby Alicia's lungs collapsed shortly after delivery. Sadly, she died about one month later. The jury found the hospital, the doctor, and the nurse responsible for baby Alicia's injuries and death.
Mr. Mannarino has a record of success that includes over $50 million in jury verdicts. In 2015, he was one of a group of attorneys who pursued litigation involving a diabetes drug which resulted in a $2.4 billion settlement, one of the largest pharmaceutical settlements ever. He has been accepted into the prestigious International Academy of Trial Lawyers, was selected as a Fellow of the American Bar Foundation, and was elected to membership in the American Board of Trial Advocates.
Ms. Brasfield is a highly experienced trial attorney who has represented clients in hundreds of complex medical malpractice cases and has obtained tens of millions of dollars in verdicts and settlements for her clients. She works tirelessly to uncover information demonstrating that her clients suffered harm because proper medical procedures were not followed or steps were not taken to prevent injuries and deaths. Ms. Brasfield has been recognized as an Emerging Lawyer by Leading Lawyers and a Rising Star by Super Lawyers. She has authored an annual chapter in the Illinois Trial Lawyers Association Medical Malpractice Trial Notebook for six years.
About Kralovec, Jambois & Schwartz
The law firm of Kralovec, Jambois & Schwartz provides dedicated experience to clients in a wide variety of personal injury cases throughout the state of Illinois. These cases range from minor motor vehicle collisions to catastrophic car accidents, major medical malpractice injuries, and cases involving product liability, premises liability, wrongful death, and more. The firm has worked to shape Illinois law to improve patient safety at hospitals and medical facilities and to provide a voice for victims of nursing home abuse and neglect. KJS believes in providing each client with care and individualized attention. To schedule a free consultation, call 312-782-2525 or visit the firm's website.