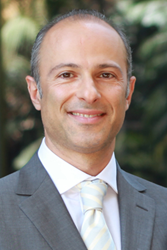 "A routine prostate cancer screening can be the difference between succumbing to this disease or beating it and living a great rest of your life," said Dr. Michel
Los Angeles, CA (PRWEB) August 15, 2017
Prostate cancer risk factors such as age, ethnic group, and family history (among others) are well known, which means that men can take preventative measures to reduce their risk of getting prostate cancer. Other risk factors that have not yet been clearly confirmed include a sedentary lifestyle, smoking, and a less-than-optimal diet (heavy on red meat, for example, yet light on vegetables and fruit); accordingly, obesity has also been found to raise prostate cancer risks. However, research conducted in the European Prospective Investigation into Cancer and Nutrition (EPIC) cohort appears to indicate that height also has an impact.
"It's no surprise that a man's abdominal girth plays a role," says Dr. Michel, "but the results showing the possible impact of height were not necessarily expected. If you're a man who's reading this, your first thought upon this news might be to wonder how you can overcome this risk factor. But there are two things to keep in mind: one is that having risk factors does not automatically mean you're going to get prostate cancer, just as no symptoms doesn't mean you don't have it; number two is that you're still in control of managing the risks and taking preventative measures."
Results from the research, done at the Oxford University (UK) Cancer Epidemiology Unit and published by open access online journal BMC Medicine, showed both weight-related and height-related effects. For every 4-inch (10cm) increase in waist circumference, the risk of death from prostate cancer is 18% higher and there's a 13% higher risk of it being high-grade cancer. As for the impact of height, results showed that for every additional 4 inches (10cm) of height, there's a 17% higher risk of death due to prostate cancer and a 21% higher risk of developing a high-grade disease.
"What's really intriguing is the fact that while height might affect your chances of dying from this cancer, it does not appear to have a bearing on your overall prostate cancer risks," Dr. Michel says. "So, if you're taller than average, but haven't yet been diagnosed with prostate cancer, you don't appear to be at greater risk; it only seems that once you have the disease, height has an impact on your chances of surviving. Of course, there are many other factors that also contribute, including getting screened early, so there is still uncertainty on how much of an impact height actually has."
While nothing can be done about height, men can reduce their weight and, thus, decrease their risks of prostate cancer, especially aggressive tumors. Combined with regular PSA screenings starting around the age of 50 or after, noticing symptoms such as changes in urinary or sexual habits and eating a nutritious diet can help lower a man's prostate cancer risks. Research has shown that men consuming three or more servings of fruits and vegetables a week reduce prostate cancer risks by more than 40% over those consuming only one serving a week. To learn more about prostate cancer risk factors, as well as how to take preventative measures, visit http://Comprehensive-Urology.com/Prostate-Cancer/.
"Men over 45 should keep a healthful lifestyle, which includes regular exercise, a good diet, plenty of fluids, and less alcohol and/or smoking," Dr. Michel says. "In fact, we recommend that you eat at least 8 servings of fruits and vegetables each day to help strengthen your body's immune system, which in turn will help power its self-healing mechanisms. Finally, we can't emphasize enough that men should get screened early, especially if you have one or more of the known risk factors because a routine prostate cancer screening can be the difference between succumbing to this disease or beating it and living a great rest of your life."
Kia Michel M.D. earned his medical degree at the University of Washington School of Medicine and completed his residency at UCLA. He has also been recognized as a National Pfizer Scholar. As one of the founding members of the reputable Comprehensive Urology Medical Group, located in the Cedars-Sinai Medical Towers in Los Angeles, California, Dr. Michel treats a host of urologic diseases. One of the few urologists who is both an acclaimed vaginal reconstructive and minimally invasive surgeon, Dr. Michel is a compassionate doctor who has dedicated his career to providing state-of-the-art care for his patients with a warm, nurturing touch.
Comprehensive Urology is a renowned urological practice in Los Angeles that provides state of the art urological care in a personalized and compassionate environment. The physicians at Comprehensive Urology are board-certified urologists with specialty training in a number of different aspects of urology and provide tailored care for their patients with outstanding results.
Call them today at (310) 499-2756 or visit their website: http://www.Comprehensive-Urology.com.
Comprehensive Urology
8631 W 3rd St #715e
Los Angeles, CA 90048
(310) 499-2756
CUInquiry(at)gmail(dot)com