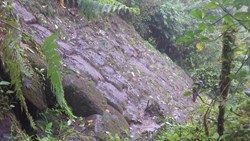 Some archaeological sites are located in very complicated regions and it's exciting to push the boundaries of such a young technology and help preservation specialists with concrete applications.
Miami, FL (PRWEB) December 30, 2013
Bruce Fenton, a British author, published a video online showing pictures of a 60 degree paved wall discovered somewhere in the jungles of Ecuador. Bruce had learned of this location from a previous expedition but only obtained visual evidence of this mysterious site in late 2013 and immediately reached out to the local preservation authorities. The relevant government agencies expressed intrigue regarding the find and promised to mount an official expedition - now pending. Seven months earlier a research group specialized in aerial archeology using drones and other non-invasive technologies led an expedition to the site and began initial research.
One of the most remote regions in the world, the Llanganates - Ecuador, is composed largely of Andean and Amazonian cloud forests and jungles, also volcanoes, deep valleys, dark lakes, huge waterfalls and dangerous rivers. The climate is harsh, mostly cold and rainy all year long. It is in this area where that the Inca general Ruminahui was born. He led the Inca resistance in actual Ecuador until the Spaniards captured him. Since that time, the Llanganates region has been associated with historical facts and bold legends. Before the arrival of the Spaniards, the Inca general would have most likely hidden the mummified body of the emperor Atahualpa somewhere in these mysterious mountains. Hundreds of adventurers and scientists have since tried to locate the royal tomb, many losing their lives in the process.
Based on information provided by Oswaldo Garces, an Ecuadorian explorer who has been a guide in this region for 12 years - he has once lead a 65 team member expedition on the tracks of Atahualpa's last resting place -, the French-American explorer and web entrepreneur, Benoit Duverneuil along with Laurent Caravel, a retired military officer from the French special forces, and Julien Calligaris an architectural professional, launched an expedition in April - May 2013. "Oswaldo told us about a mysterious site and at the same period we were building a new drone equipped with a very small and experimental LIDAR that we intended to test in remote areas. As we are also fascinated by the story of Atahualpa, we jumped on this opportunity and within 24 hours we were on a plane".
In Banos, Ecuador, the group was joined by Manuel Barriga who had previously investigated the site, and by the Molina family, German, David and Danilo, and by Diego Sghirla Herreria, all expedition veterans and passionates about History. To reach the site, the group had to go across three mountains, and several rivers. "With the rain, the soil became a swamp, you could break your ankle at every single step". Covered by bites and small cuts, they finally arrived at the foot of the paved wall. "It was impressive. This is a massive structure and literally in the middle of nowhere. We did not see anything like it on our way there. It looks like a buried pyramid", stated Benoit Duverneuil.
The weather condition were really extreme and despite their effort the team was not able to complete their survey with their drone. However, they had a chance to take a closer look at the site. "While it is clear that some parts of the site are 100% natural, the main section is more questionable, unfortunately we did not have enough time to investigate much of the surroundings area of the structure. However, it does not seem to be a true pyramid as we found no evidence of it having four sides and there did not appear to be other structures that could suggest a lost city. That said, it could be either a pre-Inca site of an unknown culture for this area or it could be connected to the story of Atahualpa, perhaps even his long lost mausoleum. Other researchers such as the brilliant Ecuadorian historian Tamara Estupiñán believes that the tomb could be located elsewhere, in the area of the Sigchos (Cotopaxi province, Ecuador). Worst case scenario, we are facing a beautiful natural formation which would certainly be a nice addition to the already amazing touristic locations in the area of Banos (Tungurahua province, Ecuador)", said Benoit Duverneuil. Part of the site is still covered by vegetation and there is a tall waterfall on the left-hand side. Some of the stone blocks are perfectly shaped and could indeed be man-made. Some artefacts found at the site or in the local area have also been recovered and photographed. Based on the pictures, most of these artifacts appear to belong to pre-Inca peoples and one highly distinguished archaeologist & anthropologist from the USA, Michael Carmichael, has identified them to be neolithic stone maces, likely to be from between 500BC - 500AD. Other artifacts recorded in the photographs have not yet been identified in any way and remain mysterious.
Next: Official expeditions led by the Ecuadorian government
Bruce Fenton has been meeting with the Ecuadorian Ministry of Culture and Ministry of Patrimony and other officials. An expedition composed by licensed archaeologists and paleontologists will apparently be launched soon to carry out an initial assessment of the archaeological potential of the site. Later on, a second expedition will be be organized with the participation different experts in order to fully survey the site and its surroundings. The ADAP research group has also offered its collaboration to the Ecuadorian authorities.
"We are working on a new drone platform, waterproof, powerful enough and with a stronger GPS signal to fly in the Llanganates. Some archaeological sites are located in very complicated regions and it's exciting to push the boundaries of such a young technology and help preservation specialists with concrete applications," explains Benoit Duverneuil.
"Organizing such expeditions are not an easy task but it is now a race against the clock. The location of the site is now known by a few locals who have been taking tourists and wannabe Indiana Jones types to the stone wall. Some of them are exhibiting artefacts they claim to have removed from the location or have been caught on camera smashing a piece of stone from the structure to take some samples and do their own analysis. When we were there, we already noticed that someone used explosives on the right-hand side of the site, it is time for the authorities to step-in", warned Benoit Duverneuil.
About Aerial Digital Archaeology & Preservation (ADAP)
The Aerial Digital Archaeology & Preservation (ADAP) research group is an independent organization that aims to give archeology and preservation professionals an opportunity to become better informed about non-invasive technologies and applications. We volunteer to provide non-invasive tools and techniques to professional archaeologists, anthropologists, geologists, historians, experts in geography and local preservation authorities.