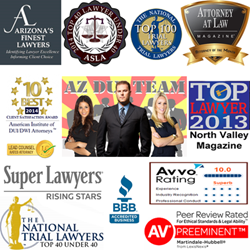 It means a lot to me that other attorneys think I am a top DUI attorney in Tempe
Tempe, AZ (PRWEB) May 13, 2015
Tempe DUI defense lawyer Brian Sloan, Member of The DUI Team has received the prestigious AV® Preeminent™ Peer Review Rating by LexisNexis® Martindale-Hubbell®. An AV® Preeminent™ Rating is a distinct achievement and considered to be "the pinnacle of professional excellence earned through a strenuous Peer Review Rating process." The rating signifies the "Highest Possible Rating in Both Legal Ability & Ethical Standards," to any individual lawyer and places Brian Sloan among the elite of fellow DUI lawyers in Tempe and surrounding areas including Phoenix, Scottsdale and Mesa.
Being recognized as a Top DUI Lawyer in Tempe is very nice accomplishment for Brian Sloan and The DUI Team. Martindale-Hubbell® ratings are determined by attorneys for attorneys and reflect the anonymous opinions of peers. An attorney must be a member of the Bar for at least ten years to be eligible for an AV® Rating. Both members of the Bar and the Judiciary in the United States and Canada evaluate the attorney in two categories, Legal Ability and General Ethical Standards, and rate their professional ability in their specific area of practice, including their legal knowledge, analytical capabilities, judgment, communication ability, and experience.
Tempe DUI lawyers at The DUI Team are well respected within the Phoenix community. The Legal Ability Rating of "A" is given if an attorney is deemed to have "very high to preeminent" legal ability and serves as an objective indicator for clients of legal services to justify their hiring decisions. In order to receive a Legal Ability Rating, an attorney must also receive the General Ethical Standards Rating. In the category of General Ethical Standards Rating, the only rating available is "V," which stands for "very high," and denotes adherence to professional standards of conduct and ethics, reliability, diligence, and other criteria relevant to the discharge of professional responsibilities. Brian Sloan is an experienced DUI Attorney.
"In earning such a prestigious and nationally recognized award, I am truly humbled. It means a lot to me that other attorneys think I am a top DUI attorney in Tempe," says Brian Sloan. "Achieving this rating is not only a testament to my commitment to the highest ethical standards in defending people arrested for DUI, Drunk Driving and prescription drug related cases, but also a tribute to the team of Tempe DUI attorneys at The DUI Team."
Tempe and Phoenix DUI Lawyers at The DUI Team offer no cost consultations to people who have been arrested for DUI, drunk driving, prescription related DUI and drug DUI related charges. During the consultation Attorney Sloan or another Member of The DUI Team will provide an honest assessment of the situation and establish realistic expectations for the potential outcome of a case. The DUI Team is available now by calling (480) 382-5562.
The DUI Team
60 E Rio Salado Pkwy
#900d Tempe, AZ 85281
(480) 382-5562
theduiteam.com
Open 24 hours