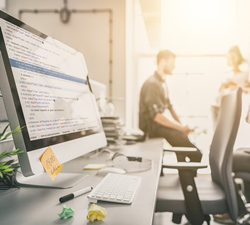 Focusing on a few key areas of website development can yield high returns.
HOBOKEN, N.J. (PRWEB) May 01, 2019
A NYC area digital marketing agency and IT consultant shares design tips to increase website user engagement in a new article on the eMazzanti Technologies website. No matter how much time and money is spent, a website is only successful if users spend time there and engage with the content, the article asserts.
The informative article encourages website designers to capture attention with a meaningful user interface and to keep navigation simple. In addition, the article states that they should make site performance a priority and tap into the power of analytics to monitor and increase user engagement.
"Focusing on a few key areas of website development can yield high returns," stated Sam Nishanth, Website Developer, eMazzanti Technologies. "Start with a solid, inviting user interface. Help users find what they want with simple navigation. Optimize site performance. And learn the value of analytics."
Below are a few excerpts from the article, "Increase Website User Engagement with These 4 Design Tips."
"User engagement can take several forms. If users are reading the content and viewing videos, for instance, they are engaging with the site. They may also actively participate in quizzes or interact with chatbots. Or they may share content from your site via social media."
1. Capture Attention with Meaningful User Interface
"First impressions are critical. Use inviting colors and readable fonts. Avoid clutter and remember that white space is your friend. Well-designed CTA buttons prompt users to engage with your site and your company. Invite them to submit their email address to download a whitepaper, for example. Include videos and clickable images that send the user to related content."
2. Keep Navigation Simple
"Make sure that users can find what they are looking for quickly and easily, using no more than two or three clicks. This means that menus should be easy to locate and simple to use, with minimal choices. In addition, place your search box where users will see it quickly, usually at the top of the screen, in the navigation bar that shows up on every page of your site."
More website user engagement design tips >>
Take Control of Website User Engagement
In a digital marketplace, a business website is a crucial tool for generating leads and achieving customer loyalty. Finding the optimal design to keep users actively engaged can be challenging. The award-winning creative team at eMazzanti Technologies can help business leaders create an effective website design.
Related resource information:
Is that website you are on safe?
New Jersey Manufacturer's Rave Review on Website Update
About eMazzanti Technologies
eMazzanti's team of trained, certified IT experts rapidly deliver increased revenue growth, data security and productivity for clients ranging from law firms to high-end global retailers, expertly providing advanced retail and payment technology, digital marketing services, cloud and mobile solutions, multi-site implementations, 24×7 outsourced network management, remote monitoring and support.
eMazzanti has made the Inc. 5000 list eight consecutive years, is a 2015, 2013 and 2012 Microsoft Partner of the Year, the #1 ranked NYC area MSP, NJ Business of the Year, 5X WatchGuard Partner of the Year and one of the TOP 200 U.S. Microsoft Partners! Contact: 1-866-362-9926, info(at)emazzanti(dot)net or http://www.emazzanti.net Twitter: @emazzanti Facebook: Facebook.com/emazzantitechnologies.